The Abbey Lakes record was smashed on Wed 27th October by British Army angler Kevin Turner during the 40 man Armed Forces Challenge at Abbey Lakes.
Fishing on Heron Lake at the French venue the happy captor smashed his previous personal best by 56lbs and caught the monster 79lb 5oz mirror fishing a quiet corner of the prolific big fish venue.
Rob Hughes, boss of Angling International the UK booking agents for the complex said "Shoulders is a monster of a fish that just keeps growing and growing. It broke 70lbs last year and shot up to 75lbs in the autumn. It always has a big growth spurt towards the end of the year. We were expecting it to be upper 70 but to rattle 80lbs is incredible."
The fish was caught over Mainline Cell and was weighed and witnessed by about 15 anglers who were overawed by the size of the creature.
The other Abbey Lakes Leviathan, a fish known as Humpy and which lives in Fox Lake has not been caught since the spring. It was a similar size to Shoulders 18 months ago and everyone is very interested to see how big that one will be when it comes out.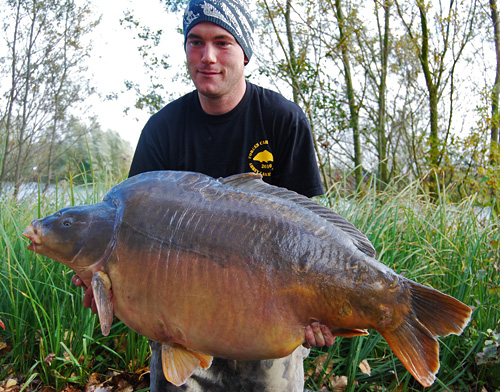 This 79lb carp caught by Kevin Turner in a Forces match from Abbey Lakjes sets a new record for the complex…
---