26 June
71 fished.
Despite the hot weather and bright sun and most peoples' low expectation the River Avon fished as well as it has done for some time at the latest Evesham Festival qualifier, with a spectacular winning weight and strong back-up weights through most sections.
Dean Adams (Wiltshire Angling) led the way with a 47lb bream haul from Peg 65 in the café meadow. At the all–in Dean potted in several balls of groundbait laced with worm, caster and squatt at 13 metres.
At the two-hour mark, with no fish in the net Dean rested himself and the swim and took a walk. A few minutes later a bream rolled across the river and quickly back at his box, Dean cupped in a couple more balls of groundbait encouraging 10 bream between 4 and 6lb to get their heads down! All were caught on worm hookbait laid on a foot below a 3g rugby ball shaped float. After every fish, Dean added another ball of his sweetened mix, with this unusually positive approach at Evesham paying dividends.
Next door on 64, Colin Perry (Sensas Mansfield Angling) weighed in 18lb 2oz. Two quality tench and a bream took a worm from the nearside top shelf, and he added 5lb of quality hemp roach in around 14ft of steady water at 12 metres.
In third place Denis Lipscombe (Oakwood Angling) on Peg 62, caught a 6lb and 3lb bream from well across the river on the feeder with perch and eels making up his weight of 12lb 13oz.
Maintaining his excellent early season form , Rich Reynolds (Quorn) was fourth from Peg 68 with 12 eels and 10 perch plundered from flat float lines at 10 and 15 metres. From Peg 54, Dave Kirk (Fox Match ISIS) used a big stick and maggot in the main flow to catch 9lb 5oz of chublets.
Qualifiers: Mark Bowerman (8lb 14oz, peg 1), Darren Davies (5lb 14oz, peg 47) and the overall winner Dean Adams.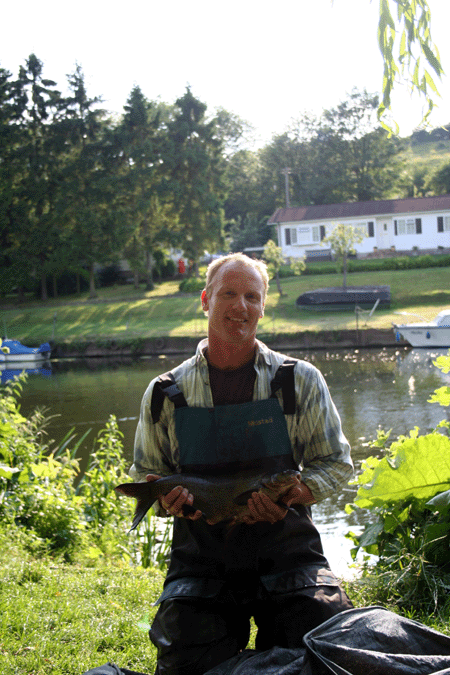 Winner Dean Adams