ONE of the country's leading extreme angling holiday specialists this month adds Africa to its ever-expanding portfolio of adventure fishing destinations.
The Africa-Angler.com website follows hot on the heels of the success of sister site Amazon-Angler.com, founded two years ago by World Champion extreme angler and TV fishing show presenter, Steve Townson.
Steve and his team are offering a mix of exhilarating hosted Africa fishing holidays and safaris across the African continent from the heart of the mighty Zambezi River, to Egypt's Lake Nasser and as far as Namibia's Skeleton Coast.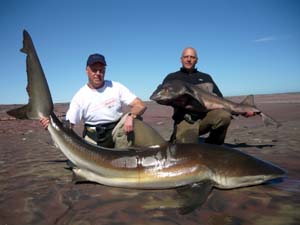 Although principally aimed at people interested in fishing in Africa (single and groups), the packages appeal to a wide audience. There are many stunning locations to attract families, couples, singles, honeymooners, photographers and wildlife enthusiasts.
Safaris, game drives, birding, elephant rides and canoeing are just some of the activities which can be combined with any fishing trip. All destinations are home to an incredible array of birds, mammals, reptiles, amphibians and insects.
Tiger Fish, Nile Perch, Tilapia, Copper Shark, Giant Trevally and Barracuda are among the magnificent quarry awaiting anyone from amateur to seasoned professional anglers.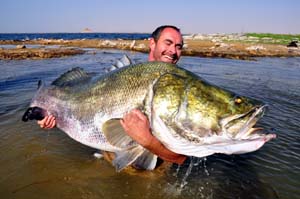 And all this is set against a backdrop of some of Africa's most spectacular scenery including the breath-taking Victoria Falls, the natural wonders of the desert banks of the River Nile and the magical beach resorts of the Red Sea.
Accommodation varies according to location, but Africa-Angler.com has discovered some real gems from house boats and tented camps to island suites and luxury lodges.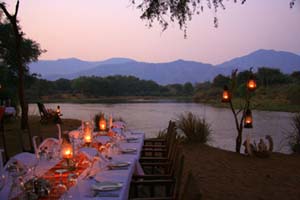 "Having fished Africa for years, I can honestly say that this is a destination for the whole family. There is something for everyone. Dad could be fishing first thing in the morning then join the rest of the family for a game-drive. Later on Mum could slip away to sample some spa treatments," says Steve, who recently hit the international headlines with the catch of a 250lb Amazonian arapaima.
"And for serious anglers interested in experiencing the incredible fishing in Africa there is adrenalin-packed fishing with every cast. Imagine being one-to-one with a huge Copper Shark on a wild, rugged beach in Namibia or a Giant Nile Perch in Egypt's Lake Nasser ripping line off your reel like an express train!"
To find out more visit www.africa-angler.com or email steve@africa-angler.com