By Steve Townson of Africa-Angler.com – presenter of Welcome To The Jungle:
AFRICAN FILMING TRIP OF A LIFETIME WITH FISHING TV
"I've recently returned from an unforgettable fishing and filming trip with Fishing TV in which I visited three of the great destinations offered through Africa-Angler.com .
I enjoyed some wonderful fishing in out of this world surroundings – the camerman was knocked out by the wildlife and big game on view and said it knocked what he'd seen on previous safari trips into a cocked hat.
Fishing the upper and lower Zambezi river and its tributaries, I managed to land some really big tiger fish plus some of the other weird and wonderful fish of the region including a big Vundu catfish that nearly pulled my arms off!!
The programmes will appear on Fishing TV in 2014 on the Samsung and Panasonic smart TV 'Fishing TV' app and online, on mobile and on tablet at www.fishingtv.com ."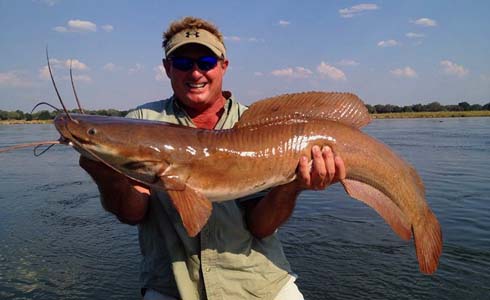 Steve Townson of Africa-Angler.com with a Zambezi River vundu catfish that nearly pulled his arms off during his filming adventure with Fishing TV.