Record breaking five times World Champion Alan Scotthorne has received a Lifetime Achievement Award from the National Federation of Anglers to honour his superb achievements in angling, presented to him by Richard Caborn MP at a ceremony in Barnsley last week.
The presentation was attended by NFA Chairman Terry Fell, NFA International Events Director Dick Clegg, Alan and Sandra Scotthorne and of course Richard Caborn MP, all of whom wanted to celebrate and honour Alan's award.
Since his first championship back in 1996, Alan as part of Drennan Team England has gone on to represent his country on numerous occasions and is widely regarded as a true gentleman of the sport. His individual World Championships came in quick succession after his first in 1996, with victories in 1997, 1998 and 2003. His latest and record breaking victory was this year in 2007 where he won in style on Lake Valence in Hungary.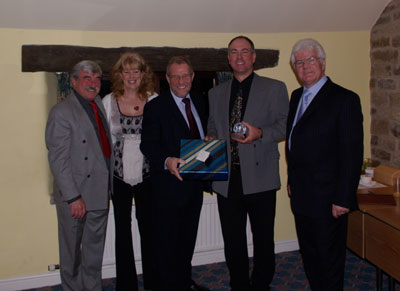 From left to right, Dick Clegg, Sandra Scotthorne, Richard Cabon,
Alan Scotthorne and Terry Fell.
The Lifetime Achievement Award is in addition to Alan's MBE which stands as testament to his hard work and dedication on behalf of the sport. Alan has devoted himself to achieving at the highest level leading to his continued success over the past 15 years. To win one international title is a major achievement; however, to win five World Championships is an accomplishment that any sportsman or woman would rightly be proud of.
Alan Scotthorne, who hails from South Yorkshire was presented with the award from fellow Yorkshireman Richard Caborn MP, the MP for Sheffield Central. Richard was delighted to have the opportunity to meet Alan and reward him for his contribution to English sport. The new Ambassador for the 2018 World Cup bid is well qualified to judge sporting success. During Tony Blair's reign he was Minister for Sport and is more aware than most of the importance of angling to society and played a key role in the development of Get Hooked on Fishing. Richard was also presented with a 13ft Hardy & Greys Marksman rod in appreciation of his continued efforts on behalf of angling.
Richard Caborn MP commented, "Coming from Sheffield, the city with possibly more anglers than any other, I have had a strong interest in fishing from an early age. Although I don't participate as much as I would like anymore it was a great honour to present local hero and five time World Champion Alan Scotthorne with his Lifetime Achievement Award. During my period as Sports Minister it was clearly demonstrated to me how important angling is for the many thousands of participants across the UK but more importantly how it has been used to bring young people back into society through schemes such as 'Get Hooked on Fishing'.
Record breaker Alan added, "I grew up at the side of a reservoir here in Yorkshire, and spent all of my time fishing, getting out there to practise whenever I could. Fishing has been my life and being able to fish for England is the pinnacle of the match fishing world. It's nice to think that I could be probably the most successful angler out there at the moment. However I am sure that someone will overtake me at some point.
There are a huge number of people involved in fishing, and judging from people's response to this year's win in Hungary, there is definitely a huge interest in international fishing and a huge wealth of support for the England team. Hopefully, I can keep going a bit longer and get some more success in future years.
Growing up in Yorkshire has been vital to my career in angling because I was lucky enough to be learning the sport when the area was producing some fantastic anglers. I was regularly fishing with Dick Clegg and Tommy Pickering among others, which really helped me develop and advance my fishing taking it to the highest level.
It was an honour to be presented with a Life Time Achievement award from the NFA, as you go out to fish the World Championships year after year, but it is very rare that you ever get a chance to celebrate and reflect on your achievements. Meeting Richard Caborn MP was great, especially with him being a local man who has had such involvement in England's sporting success, making it extra special."