Spring might well be just around the corner but, realistically, it's still winter and the days are not exactly warm, and insect activity is sparse to say the least. Even during the 'warm' lunch time period you may only see the odd midge.
The mornings are bleak and misty and do not inspire much confidence in the angler. Stepping out of a warm car to tackle up sends a shiver down the spine.
Getting ready, your hand automatically digs into the tackle bag searching for a sinking line of some variety, and as you thread the rings you secretly hope that the odd fish may rise at lunch time and you may get a chance for a chuck with the floater.
Its amazing how many of us still slip into the relatively safe mode of cold-water fishing, playing the percentages with a clear intermediate or medium sinking line, shortish leader and long-tailed lure of some description. A very effective combination of that there can be no doubt, however, it's certainly not the only method!
In my opinion, the floating line is often the number-one tactical weapon in any angler's armoury when it comes to cold water. It can be both devastatingly effective and a pleasure to use at the same time – even in sub-zero conditions.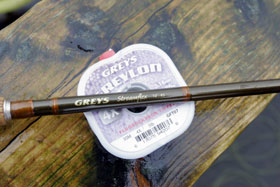 A 5-wt rod is more delicate and responsive. Couple this with a light tippet material and you'll achieve perfect presentation.
On a nice calm day even with ice forming in the margins, for pure angling pleasure you can't beat a bit of nymph fishing.
I normally go for a 9ft or 10ft 5-wt rod. This allows both subtlety and delicacy for fishing light tippets but with enough backbone to fire a full line if needed.
My Greys Streamflex rod is my weapon of choice, and my current favourite floating line is an olive number with a fire-orange 6in tip section, the Rio Nymph line.
I have tended to lean towards olive lines over the last few years after seeing pressured fish shy away from light or bright-coloured lines but am happy to trade a bit of garish orange at the very tip of the line so that I can use it as an indicator, greased with mucilin – it needs to be mucilin as it tends to 'stick' a bit longer.
I attach a tapered butt section of around four feet in length cut from the heavy end of a 12ft tapered copolymer leader by means of a loop-to-loop connection. The taper is necessary as I will invariably fish with three flies using this style and the taper allows better control and accuracy; it also gives me the start of a dry-fly leader should the chance arise. To the end of this I will attach a fluorocarbon or copolymer tippet depending on fly size and conditions and space my flies evenly around an arm's length apart. This means I can net any fish hooked on the point without the chance of the top dropper getting stuck at the tip ring.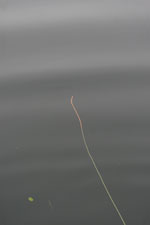 The orange tip can be seen on the water, even at distance.
Fly selection for me will almost always consist of small Diawl Bachs, Pheasant Tail Nymph variants and Hare's Ear variants on my droppers with a Copper Wire Buzzer on the point. This latter pattern is absolutely deadly and I would guess is my single biggest catcher of small-water rainbows, winter or summer, and ridiculously easy to tie.
Once rigged up I will ether seek out calm water or, if a light breeze is blowing, position myself casting directly into the wind. I do this for two very good reasons. The first and obvious reason is that any food that is around should end up on the downwind bank. For me, though, a more important reason is the one I discovered purely by accident. Small-water rainbows on catch-and-release fisheries, the ones that have been caught before, are extremely wary, often just mouthing the fly and rejecting it at the slightest hint of resistance, leading to many short takes. By casting into the wind and retrieving at the same pace or ever so slightly slower than the rate of wind drift, you can achieve a very natural presentation of the flies; takes that were hardly felt simply become unmissable. Try it, I promise you'll be amazed at the difference it can make to your hook-up rate on tricky fish.
If you're worried about distance when casting into the wind, don't be, the fish will be close in with the food.
If sport to the nymphs is slow I will often nip the point fly off and replace it with something a touch more aggressive – all right, a lure! But not your normal lure, no chenille or Fritz, just a sparse marabou tail and a twist or two for the body; a small bead in brass or tungsten also provides weight and that irresistible ducking and diving motion. This motion is more pronounced on a floating line, as the angle of lift you can achieve with the floater is much greater than with a sinking line.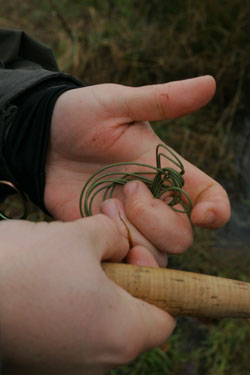 A figure-of-eight retrieve will keep you in touch with your flies.
With the added weight of tungsten beads, which are now available in a range of colours, you really can get serious depth. At this time of year when low water temperatures mean that fish are often in 'go slow' mode, you can fish a heavy pattern much slower on a floating line; they allow you to slow everything down without fouling the bottom.
The use of the floating line also lends itself to some interesting presentation options that don't exist with a sinker. Just think for a moment: the majority of anglers cast out and retrieve straight back to the bank –how many times have the fish seen this approach? Simply making the fly behave in a new and different way can bring instant success. Try throwing some mends left or right or both ways and you can 'snake' the fly back.
On really hard days, when all the usual approaches have gone unrewarded, there are ways and means of winkling out a few extra fish on the floater. Stick with the nymph cast described earlier but replace the point nymph with a fly that is purposely too heavy for the water in front of you. I often use an egg pattern with a 3mm or 4mm tungsten bead, allow it to sink and tighten up on the flies. You are trying to get the point fly to foul the bottom, and are anchoring the point to more effectively fish the dropper flies at depth in a natural, semi-static manner. Fish after fish can fall to this method.
If your local fishery does not allow buoyant-type flies, then replace your point fly with an indicator and concentrate on fishing the droppers. You may get the odd daft fish try to eat it but most will sip the Spider first.
A change in leader set-up to a shorter overall length with closer spacing between the droppers can allow you to fish a large disturbance pattern on the top dropper. A muddler or big dry works well with a smaller pattern close behind. The top dropper gains the fishes' interest and the small fly does the damage in traditional short-line, wet-fly style.
Of course, many other variations on these methods exist; we haven't even touched normal indicator fishing.
To put the above methods into practice, I spent the day at Wych Elm up in Lancashire, a cracking little stillwater and one that was particularly busy on the day I visited.
It just so happened that I wasn't allowed to fish until midday because a party of anglers had booked it for the morning.
I was ready and raring to go, and as soon as Kenny Gill, the fishery owner, gave me permission to start I was fishing and catching. I hadn't even cast a line, I was pulling a few yards of line off the reel to cast out when my small Diawl Bach was snatched from behind by a trout that was obviously hiding beneath the platform I was standing on.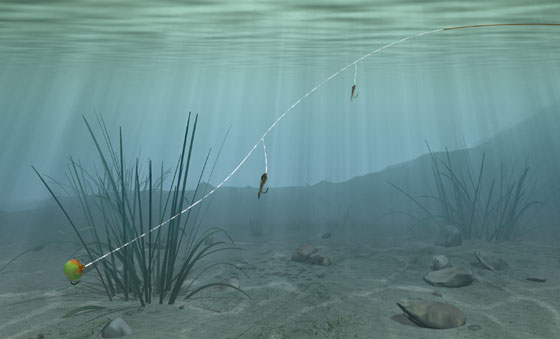 Anchoring The Point Fly
On lakes with a clear bed you can slowly crawl the point fly along and pick up fish feeding on the lake bed with regular success. Fouling the weed with the point and catching on the droppers has always proved deadly; it can also be used to great effect when fishing from a boat at anchor.
The floating line's versatility does not end there. Replace the point fly with a buoyant booby or muddler and fish what's known as the 'washing line'. Even in cold weather a sparse buzzer hatch can bring the fish up to the surface, so now is the time to replace your dropper nymphs with the much underrated Black Spider and hold on – it can be that simple!
Top Tips
Use a short tapered leader to aid turnover
Use mucilin on the tip of the floating line so it sits high on the surface of the water
Hedge your bets and mix attractor patterns with natural patterns to maximise your chances
Think 'outside the box' and give the fish something they've not seen before – it can be THE difference between a good day and an exceptional day
Watch the end of the line for takes when fishing slow. If you can't see the end of the line, watch the loop between the rod tip and the water, much like a coarse angler's swing tip  – you will always see something before you feel it. If in doubt, strike!
Take a look at the fishery map or ask the owner where the deep holes or drop-offs are, because these can be the best areas to target
Fact File
Wych Elm Fishery
Location: Holme, near Carnforth, Lancashire
Open: All year round
Prices: £23 for four fish; £18.50 for three fish; £14 for two fish – all allow catch and release after limit. £12 for a full day's catch and release. Other tickets are available; please call for details
Disabled facilities: Yes, cars can be driven down next to the lake and the platforms allow access to wheelchair users
Tel: 01524 781449
Web: N/A
---