The Future Of Fly Lines
Under the watchful eye of production director and fly-line guru Richard Wothers, Airflo has been first to the market with density compensation (to make sinking lines sink tip first), PolyFuse technology, variable buoyancy and, arguably, the smoothest welded loops on the market. One of the latest breakthroughs is Ridge technology that approaches the problem of line friction by reducing the actual surface area that comes into contact with the rod rings. Top this with a PTFE (Teflon) lubricant and you have an incredibly slick fly line. The ridges not only reduce friction, but also collect a certain amount of water on every cast, which, when in contact with the guides, acts like wet ice. Because the lines are ridged, it also helps to reduce line tangles as there is less surface area, reducing any tendency for the line coils to stick together.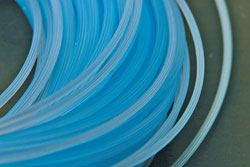 Airflo's Ridge coating is arguably the biggest breakthrough in fly-line manufacture for years.
Make your own fly line – the Airflo way
All fly lines are made in-house at the company's South Wales base and because of this the company is able to develop, and tweak, line designs at the drop of a hat.
TFF was given a tour of the premises and it is fair to say that it is ultra-impressive. Unfortunately only parts of the process could be photographed, but it should give you a good enough insight into the manufacturing process.
The raw ingredients
Airflo fly lines differ from all other fly lines on the market today. They differ because of their fundamental ingredient – polyurethane.
Polyurethane is a versatile product and ideal for fly-line manufacture. It starts life as a pellet and is available in different degrees of hardness, which allows Airflo to make lines ideally suited to different climates.
It is also a naturally flexible product – there is no need to add plasticisers to make it work. In turn this leads to a far more durable product.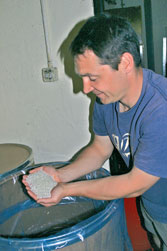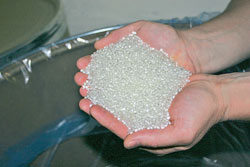 Adding character
Deep inside the inner sanctum of Airflo is a compounding room. For obvious reasons, photography is not allowed in here.
In this top-secret room the pellets are blended with other ingredients to make the raw material that is used in fly-line production. This could include dye, PTFE, tungsten and other proprietary ingredients. The characteristics of polyurethane allow for high levels of other ingredients to be carried. It is for this reason that Airflo is renowned as a leader in sinking-line technology. Put simply, nobody else can carry that much tungsten in a line!
The end result is then turned back into pellet form ready for the next stage.
Core materials
Airflo lines are typically made on one of three cores.
Firstly there is the braided nylon. This is used in a wide range of lines and is similar to that used by other manufacturers. It offers around 22 per cent stretch.
Airflo also uses its own proprietary braided core, which has just six per cent stretch. This offers many advantages, including bite detection, hook setting and superior lift off when casting. Perhaps this is where the recent range of lines – Sixth Sense – gets its name.
Some lines are also based on monofilament.
The coating
We weren't allowed to photograph this stage of the process but, in essence, all that can be seen is line core material going in at one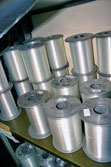 Low stretch cores are a key feature of many of Airflow's fly lines.
end and a finished fly line being extruded at the other. It is the software running the machines and the amount of coating applied that makes these lines stand out from the competition.
Airflo lines are manufactured using a two-part coating – the so-called 'PolyFuse' technology. Each line is made up of two different types of polyurethane, both heated to 230C. The software applies an inner coating to the core and then, almost instantaneously, an outer coating. These two coatings instantly fuse together, forming the complete line.
The line designers have total control over the line at all points of manufacturer. Differences in coating thickness, or the amount of each coating being applied, can be altered in an instant – which makes the development of new lines and new technology very quick indeed.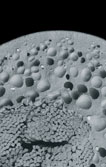 View through an electron microscope showing the PolyFuse coating on a floating fly line.
Nearly there
The lines aren't fully set when the coating process is over and are stored on huge drums for the final curing process. This can take anything from one to three days, depending on the line.

Quality control
All lines go through a stringent quality-control process before being packaged. Consistency is essential and the manufacturing process ensures that lines will always reach the end user in perfect condition.
---