PAA coach and event organiser Graham Walker applied his skills to great effect on this well sponsored double-header, that featured experienced and novice anglers alike, all accompanied by bulging sponsorship forms in aid of the Alzheimer's charity.
Free entry at Poole Bridge Farm fishery in Yorkshire saw 18 rods line the banks of Horseshoe Lake and top cash prize on the day of £200 in the main match plus pools, sponsored by Martech UK Ltd, went to venue ace Chris Kendall (Yorkshire Match Anglers) who bagged a level 60lb of roach and crucians using waggler and maggot tactics. Chris generously donated the £200 to the Alzheimer's Society in order to boost the fund.
Second spot was sealed by Dave Thompson with a 51lb net and Mick Fearnside grabbed third place with 36lb 15oz.
The novices' competition was fished over on the 16-peg Norman's Lake where anglers from 10 to 75 years of age enjoyed some terrific fun. Thirteen-year-old C-Jay Barraclough steamed home in first place with four carp for a 30lb-plus total. Having just his fourth outing with rod and line was 75 years young Bernard Pearson who nabbed a barbel and tench for 5lb 8oz with Joe Traves, smack in the middle of the 'age range', filling third spot with a 4lb mixed bag. Every novice caught and all went away with a rod and reel, donated by the Environment Agency, keep net from Cormoran and goodie bags worth £100 in total.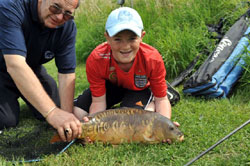 C-Jay Barraclough with one of his winning carp.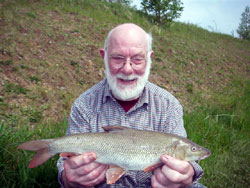 Bernard Pearson with his first ever barbel