Argyll Holidays have parks in seven stunning locations throughout Loch Lomond and the Trossachs National Park offering both short breaks as well as longer visits for families or groups of anglers.
There is an array of accommodation available, from Premier Caravans and Hotel Rooms, to Platinum 5-star Hot-Tub lodges.  There is also the possibility of owning a stunning holiday home so you can escape to this picture postcard corner of Scotland whenever you like.
On top of this, the scenery is second to none, and for anglers there is almost and endless choice of locations where you can cast a rod and a line for your perfect catch.
We have accommodation overlooking Loch Goil, Loch Eck, Loch Fyne, Loch Lomond and Loch Awe.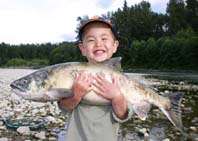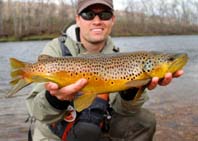 Some of the lochs offer world class game fishing and there is also plenty to choose from for the coarse and saltwater angler with Argyll Holidays. 
The latter is especially famed for its huge Ferox trout sport, but each of them offers their own unique game, coarse or saltwater angling opportunities. A simple web search will help you find out more about what each loch has to offer.
FISHING LOCH LOMOND AND THE TROSSACHS
OUR PARKS
Drimsynie Estate Holiday Village:
Where the mountains and loch meet in some of the most spectacular scenery in the world.
Situated at the head of Loch Goil, Drimsynie Estate Holiday Village has stunning panoramic views across the loch, mountains and nearby village of Lochgoilhead. There is a great choice of holiday homes on offer from luxury lodges to modern caravans.
FIND OUT MORE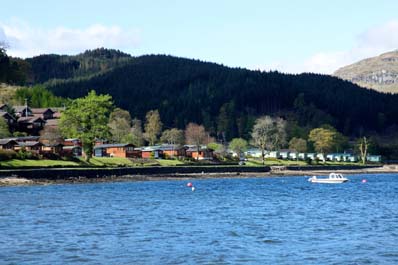 The Drimsynie Park at the head of Loch Goil.
Hunters Quay Holiday Village
A real family holiday experience just an hour from Glasgow.
This 5* Scottish tourism award winning park is situated in an elevated position with spectacular views overlooking the Argyllshire hills and Firth of Clyde set in 185 acres of landscaped grounds are our lodges and caravans. Offering a superb range of all weather facilities in a magnificent leisure complex, this five star holiday village promises plenty of fun which make Hunters Quay the perfect family holiday home destination.
FIND OUT MORE
Loch Awe Holiday Park 
Gateway for exploring Scotland's Western Highlands and Islands.
This lovely park is located just 14 miles from the popular coastal town of Oban. Bordered by the River Awe, this spacious park is easy to get to and is the perfect choice for outdoor enthusiasts. The great fresh water lochs attract keen anglers, especially the fishing on Loch Awe, while walkers and cyclists make the most of the beautiful scenery and mountainous landscape
FIND OUT MORE

Loch Eck Caravan Park
The fishing and boating enthusiasts' park, right on the banks of Loch Eck
Loch Eck Caravan Park is a quaint little park which sits on an extraordinary elevated position overlooking Loch Eck and the surrounding mountains. Positioned right on the banks of the Loch owners can moor their boats just a stone's throw from their caravan. Each and every property enjoys the stunning views and tranquil feeling of seclusion. Ideal for those interested in fishing Loch Eck and walkers can enjoy an excellent choice of marked trails nearby.
FIND OUT MORE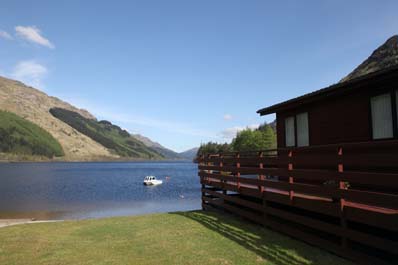 The stunning view over Loch Eck from the Argyll Holiday lodges.

Stratheck Holiday Park
Family Friendly Park, nestled in a gateway to the outdoors.
Set amidst the glorious landscape of the Loch Lomond and Trossachs National Park, Stratheck Holiday Park is a spacious and beautifully landscaped park just seven miles north of Dunoon. This peaceful park is great for outdoor enthusiasts and keen anglers with wonderful walking and cycling paths close by as well as for those wishing to take advantage of the Loch Eck fishing opportunities. There is an onsite clubhouse which hosts a licensed bar and separate games hall for the kids with outdoor picnic tables for al fresco drinks and BBQs in the summertime.
FIND OUT MORE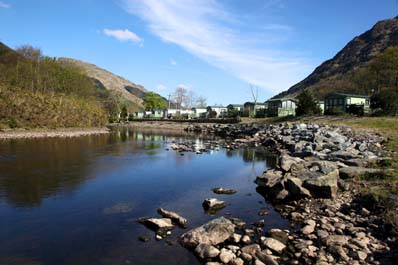 Accomodation offered by Argyll Holidays on the banks of Loch Eck.
St Catherine's Caravan Park
Truly get-away-from-it-all on the banks of Loch Fyne.
St. Catherine's is a small and peaceful park exclusive to only 64 caravan owners. Located on the banks of Loch Fyne looking across the water to the quaint white stone town of Inveraray and the Duke of Argyll's Castle – St. Catherine's Caravan Park encompasses quintessentially Scottish views. The park is ideal for relaxation and weekend retreats. If you enjoy seafood then you are in for a treat as only 7.5 miles down the road you will find the award winning and internationally acclaimed Loch Fyne Oysters restaurant, gourmet shop and smokehouse. A must eat!
FIND OUT MORE
ARGYLL HOLIDAYS FACT FILE
Website: www.argyllholidays.com
Telephone: 0845 459 6412
Email: Ross.Coutts@argyllholidays.com
Special Offers: www.argyllholidays.com/special-offers
Booking: www.argyllholidays.com/book-now
Argyll Holiday Home Sales: http://www.argyllholidayhomesales.com/