Reigning UK Champion Jon Arthur got that winning feeling at Browning Cudmore last weekend as he qualified for the final of PartyPoker.com Fish 'O' Mania, and will be hoping to replicate his performance at the same venue in July.
All the main match pools were being used on the day, however the Arena pool which will be used to host the PartyPoker.com Fish 'O' Mania final was given a rest in preparation for the summer. Following the form of previous qualifier Barston Lakes, again the venue slightly underperformed due to the carp still in spawning mode, however it didn't detract from the excitement as barely 10lbs separated the top four anglers and the match was won right on the hooter.
It was Drumble Pool which was the locals' favourite to fish well, however once again the fish proved notoriously difficult to catch and it was the old faithfuls New Pool One and Two and Suez which were the places to draw, producing the top six placed anglers between them.
Eventual winner Jon Arthur won the battle for top spot with a last gasp 2lb mirror carp which helped Jon take 72lbs 12ozs to the scales pushing him past the previous leader Steve Ringer. Jon was fishing on Pool Two from peg number 59 and although Jon set out to fish pellet upon local recommendations, he quickly recognised that on this day the fish were far better suited to meat, and that this was the wiser tact to take.
The change of tactics proved justified as he caught around 25 carp in all, fishing three lines at 6m down the edge, 7m on the bottom and 14.5m up in the water. Although admitting to only 50lbs to 60lbs worth of fish, Jon ended with 72lbs 12ozs, however it wasn't until the final weigh in that his victory was confirmed. With second placed Fish 'O' Mania legend Steve Ringer finishing with 72lbs, Jon had beaten him with just 12ozs to spare.
Jon who fished in the final two years ago and also had a fourth place finish at Woodlands Lakes at Thirsk in 2007, commented, "Getting back to the Fisho Final has been a major goal of mine ever since I was there two years ago. I just missed out on a place last year and still can't believe I've actually done it! To be honest, I never thought I was ever in the running to win so I just fished a tidy match, picking off fish all day. It was only while I followed the scales that I realised I had a very realistic chance of doing it! I had a wander around Arena Pool straight after being interviewed and it certainly looks the part for the Final. With a central island about 25 metres away it looks like I'm going to have to polish my very rusty casting techniques!"
Second placed angler Steve Ringer was fishing on Pool One, peg 32 and caught carp up to 6lbs and a few F1's on meat fished at 5m. In third place was Gareth Malham who many thought would be the winner as he had fished well throughout the match. However, in the end he just missed out finishing with 68lbs 8ozs of carp caught on pellet and meat down the margin.
In fourth place was Mark Benson of Runcorn who weighed in 62lbs 6ozs and in fifth spot was Lee Riley who ended with 51lbs 2ozs.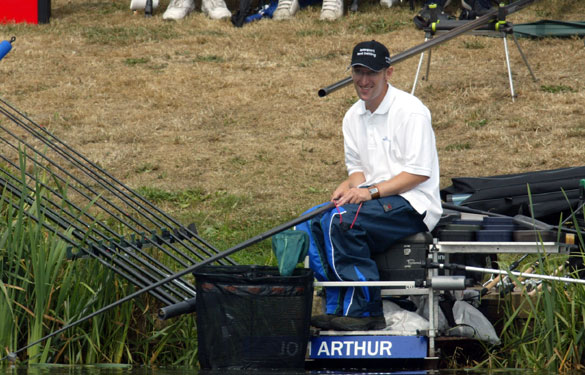 Arthur in action