A perfect two section wins secured Bag 'Em sponsored anglers, Neil Machin and Andy Moors the 2010 Maver British Pole Championships.
Fifty six pairs took part and former Matchmen of the Year Neil and Andy won £1500 and a Maver 361 pole each worth £2000 a piece after being the only pairing to post a two point score.
Neil bagged 15 carp on meat fished over Bag 'Em natural hemp, plus some skimmers caught on pellet over a mix of Bag 'Em XP and Machin's Method Mix groundbaits.
Bag 'Ems Lee Thornton and Pete Goodman won £900 in cash and a £1,00 Maver pole each after they both finished second in their sections, giving them four points.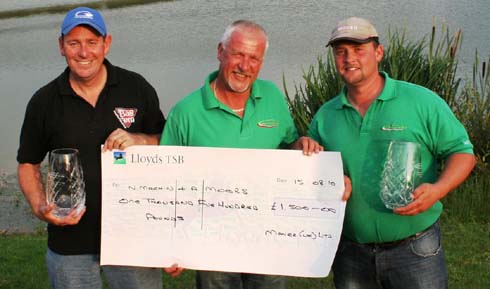 Former Matchmen Of the Year Neil Machin (left) and Andy Moors (right) receive the Maver Pairs winners' cheque and trophies from Maver UK bos Phil Briscoe.
---