I was probably around one year old when Jan Dobson opened her trout fishery to the public. Now, 32 years on, Lancashire's Bank House Fishery is doing better than ever, so what's the secret, or, pardon the pun, 'the key to success'? It's simple – supply the demand. Bank House, over the years, has grown side by side with its anglers, listening to comments both positive and negative, then actually acting on them. This is such an important part of any winning business.
Ben Dobson, himself a hugely successful fishery manager at Stocks Reservoir, is a co-owner at Bank House – making for a winning team. Bank House is a well-structured, two-and-a-half acre millpond. It is well matured with many different forms of plant life. There's also a huge amount of insect life in the water, providing the trout with rich and varied feeding.
As most anglers do, I enjoy fishing imitative patterns. It's such a relaxing way to fish and, by matching the hatch in the right conditions, you'll be in for a real red-letter day!
My fishing buddy Dee and I arrive at the Bank House car park and make our way over to the lodge to meet Ben. Ben explains to us the bad news that persistently heavy rainfall has coloured up the lake quite considerably and that we may struggle with the imitative approach. These minor setbacks never deter me; in fact it probably does the total opposite, making me even more determined. We've come here today to catch on buzzers, and catch we will… here's the plan.
Light Lining With Buzzers
Rod Choice
A much softer rod than the norm is my preferred choice when fishing buzzers, enabling me to present my nymphs well, so today I'll be using a 10ft 5-wt Orvis Western. This is a lightweight rod and doubles up perfectly for river use. I've also gone the whole distance and purchased a Battenkill reel because quite often with lighter outfits and tippets, a good drag system comes into its own.
My leader will consist of three 6ft lengths of fluorocarbon, starting with 8lb, then 6lb and finishing with 4lb at the point. This gives a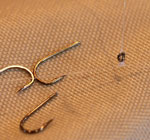 An eye carefully snipped off a hook makes a very effective leader ring!
total length of 18 feet. As I've said before, you must alter your leader length to suit your casting ability – it's better by far to turn over and present a 10ft leader than to send a 20ft leader crashing in a heap! So, for example, you may find that an overall leader length of 12 feet would be easier and in that case use 4ft sections or, even better, purchase a pre-made tapered leader. The reason I prefer to make my own is that I attach dropper rings at the end of sections one and two, using them to join the main leader together instead of knots. I then simply attach my dropper length to the ring as well.
Incidentally, a great trick, if you don't have any leader rings to hand, is to use the eyes off light-wire hooks, cutting them off with wire cutters – but please take care to mind your eyes!
The Method
With a relatively heavyweight Emerald-Green Seed Buzzer on the point of the leader, I am able to cover the depths efficiently to try to locate the trouts' feeding zone. A gentle ripple is now forming across the water's surface and hopefully I will be able to use this to my advantage. I make a move to a more suitable platform where the breeze will cross my right shoulder. I make my cast towards a 10 o'clock position and do nothing for the first couple of seconds. This allows the belly of the fly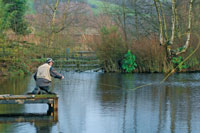 Make the first cast at an angle of about 10 o'clock to allow a curve to form in the line.
line to form an arc and my flies to settle. As this is happening my focus will remain on the braided loop for any signs of a take on the drop. When the arc is formed I will then begin my retrieve. Usually with buzzers this will be pretty much static, and the retrieve is just to pick up any slack line to remain in contact with the flies.
Concentration plays a massive part in boosting your day's catch rate; how many fish do we miss when looking at something or pouring a quick cuppa?
When I'm match fishing my focus and concentration levels are paramount; I'll make my cast and then, whenever I'm fishing a slow retrieve, I will squat down. With the tip of my rod close to the water's surface, I focus on it just like a predator waiting to strike throughout the entire retrieve.
Instant Rewards
My buzzers are now swinging around perfectly with the breeze and I'm doing everything right, covering the lake bed upwards. It's now up to the trout and, right on cue, a take is offered. I respond with a quick strike and the trout is on. Playing the fish tells me that it isn't of specimen size but it's certainly holding its own. I don't want to play this fish too hard and risk losing it because I would like to see which fly it has taken so I can begin putting a plan together. After a few lively runs I am able to draw the fish up from the depths and reveal my two droppers, so I know it's taken the Emerald on the point. The fish is swiftly netted and quickly released. I will continue with this rig for a while and see if I can establish a favoured fly.
I've settled now and I'm finding interest with another fish falling to the Emerald Seed Buzzer. My confidence is soon lowered as the wind picks up strength, pounding its authority across the water and making life very difficult for my delicate 5-wt outfit.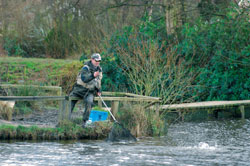 Tiger fish on!
I decide to change my flies in a bid to beat the weather, and replace the buzzers with some moving patterns: a Gold Head Lure on the point to cut into the ripple (more like wave!), a Gold-Tailed Mosaic Nymph and a Black and Gold Cormorant. While I wouldn't normally advise fishing three flies in strong winds, the water clarity is very poor and, as I feel it makes a difference, I want to increase my chances.
I try a couple of casts with a medium-paced retrieve when all of a sudden the line is stopped dead with a savage take. The fish is on. It doesn't feel of any size but it sure is going mad, that mad that a couple of anger-management classes wouldn't go a miss. It's a tiger! This is my first tiger and I'm shaking like a leaf. Utter delight and total satisfaction is felt as it slips into my net. It's not a big tiger by Bank House standards but that doesn't matter; it's beautiful all the same and has made me very happy by catching it.
The wind's really getting up; it's now time to seek out some more sheltered areas so I can persevere with the buzzers. Luckily, Bank House is a well-developed fishery with many trees and plant growth providing areas of cover. I make my way to the island in the middle of the lake, where I find a small footbridge leading to a smaller, isolated island. The now howling wind has been filtered away by the cover behind me.
I'm now fishing three Seed Buzzers (Red, Copper and Emerald) deeply and very slowly. Again I'm just retrieving the slack line and, as the floating line swings round, I'm watching the tip of my rod when the line suddenly lifts up indicating a take. I make the strike and another fish is on; it's another plump little fellow that's taken an interest in the Emerald Buzzer.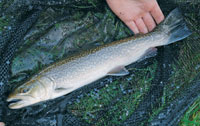 A tiger trout. Bank House is renowned for these feisty fighters.

The Final Challenge…
As I release my fish I'm alerted to Dee. Having been quietly catching all morning in a nice, sheltered area he's now into another fish, and, judging by the fixed arc in his rod, he's found something good. I stand and watch for a while as his fish powers back and forth holding deep. My fingers are crossed for Dee as I know he's in with a good chance of beating his personal best of 6lb with this fish, but disaster strikes as Dee's fly line gets into a tangle, leaving him no option but to put his rod down and untangle the line! Much to everybody's amazement, when Dee picks his rod back up the fish is still on. Meanwhile, as I'm still laughing away at my pal getting the runaround and not paying attention to what I'm doing, my fly line is torn completely out of my hand. I now, amazingly, appear to be in the same boat as Dee with my rod also bent double and a solid lump taking control in the depths below!
My smile soon drops as I battle to control my fish. You can imagine the pressure I'm now feeling to land this fish after all the stick I've just given Dee – he'll never let me forget it.
Dee's fish is safely in the net and it looks big. I haven't even seen mine yet and I'm praying that the buzzer holds. Eventually my fish begins to tire and I'm starting to make some headway. However, each time I get it to the surface it powers away to the depths. After managing to negotiate the safety fencing in front of me, I finally get my fish up enough to slip the net under it – phew!
Talk about the icing on the cake. What a truly fantastic way to finish off a day's fishing, with two friends catching a couple of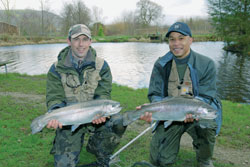 What a brace to finish with. Fred (left) and pal Dee with nearly 20lb of buzzer-caught Bank House rainbow trout!
crackers at the same time, Dee with a personal best of around 10lb and me with one a little smaller – not forgetting the bonus of my lovely little tiger.
Bank House is a well-run, superb fishery offering sport to the traditional and modern angler alike. It's well worth a visit; we've had a memorable day and definitely vow to return.
Fact File
Bank House Fly Fishery
Location: Caton, Lancaster, Lancashire
Open: All year
Tel: 01524 770412
Web: www.stocksreservoir.com
E-mail: info@stocksreservoir.com
---