Norway has to be high on the hit list of any game angler's must-visit destinations. Dreams of roaring rivers and goliath Atlantic salmon are only ever crushed by the sudden shock of the price to fish there. But it doesn't have to be that way.
Last summer I tagged along on a trip to one of Norway's most famous rivers – the Gaula. While private beats in the area we were visiting could cost up upwards of £1,000 simply for a week's fishing, staying at a campsite on the riverbank and fishing public water meant that we paid under £200! The place was Storen, which is just over an hour's drive from Trondheim Airport. With the campsite perched right on the Gaula's bank, it's not surprising that it's pretty popular with fly fishers and their suffering families, who visit from all over Scandinavia and Europe every summer.
Being open to the public, you simply need to buy a rod licence and permit to fish the local club's (SJFS) water. Peak times on the river at Storen can get busy, though, so while you do get two to three miles to go at, you can often find yourself joining a queue (I'm not joking) to fish down a pool. It's perhaps not surprising, however, because the salmon season is merely three months long, and we are talking about one of the world's greatest rivers for the species.
There are ways of avoiding the crowds and our favourite was to choose the night-time option. With daylight nearly around the clock, we found that (especially as daytime temperatures were nigh-on 30C) fishing from 10pm through to 3am or 4am gave us almost free rein of the place. And what a place. Although it is a holiday resort of sorts, you can't help (particularly late in the night) having a feeling of space. The river's huge, the mountain views spectacular and the air as clean as it comes; it really is a breathtaking location in which to cast a fly.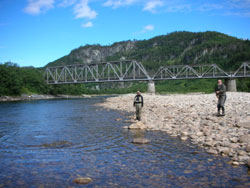 In normal river heights, these guys would be underwater!
As I mentioned above, the river itself is indeed a beast. Even in the low water we were faced with, it ran more powerfully than any Scottish river I have fished, and often required some hefty casts to enable you to cover the lies.
Shooting heads, budgie-sized Tempeldog flies and overhead whallops instead of serene Spey casts were favoured by the regular anglers. I suppose they must be used to tackling the Gaula at 'normal' height, where you wouldn't dare wade over your knees and know that the next take could mean spending the next hour or more attached to the biggest fish you are ever likely to hook! In essence, I wouldn't recommend it to the novice angler; it's fine if you are travelling with experienced fishers, but it can be a little daunting.
My week's fishing was disappointing; running at least six feet lower than its usual July height meant that the large runs of Gaula salmon had not really materialised. With the campsite's catch return book reading in the region of 150 fish (since the start of the season in June), it didn't bode well as my companions (regular visitors) informed me that they would usually expect the book to read 300 by this time. We (I say we) managed three grilse (around the 3lb mark) and a couple of sea trout between four of us. This is hardly inspiring I know, and the only fish I hooked during the week threw the hook about 10 seconds into the fight! However, based on the lads' previous experiences (my pal John had never seen a Gaula salmon under double figures before our visit – his last fish there weighed 28lb!) I am sure to return.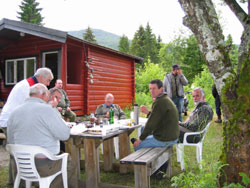 With only one or two anglers allowed to fish a pool at a time, waiting your turn is the norm at Storen.
Transport
Booked a couple of months in advance, we found return flights (Birmingham to Trondheim via Amsterdam) for around about the £150 mark with KLM. Make sure you pack lightly when it comes to fishing gear, as they will sting you for excess baggage.
We hired a car at the airport and drove to Storen. One of our group, however, took the bus there and the train back with no problems. Having said that, it would certainly be advisable to have the use of one car between the group for driving to some of the beats and into Storen town itself.
Accommodation And Fishing
I would thoroughly recommend a trip to Storen with friends. I'm not sure of the attraction for a family because, with the exception of a trampoline and the occasional communal barbeque, there seemed little else to do apart from the fishing.
While you can choose to pitch a tent or caravan, Storen Camping also has many small (and I'll emphasise that bit), traditional chalets available for hire. Simply consisting of a kitchen, living area and bunk beds, these are ideal for a small group of friends who are keen enough on the fishing not to worry about silly things like personal space.
By the way, for us Brits not fluent in Norwegian, it's good to know (and a little embarrassing) that nearly everyone you'll speak to has a good grasp of English.
Tel: 00 47 72 431470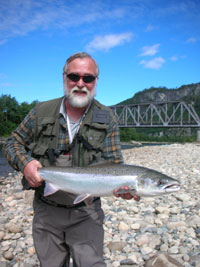 Roar Lindso and a muscular 12-pounder at an SJFS beat on the Gaula.
The nearby Gaula Natursenter will also give you information and permits for fishing the SJFS water.
Tel: 00 47 72 431065
Website (it's in Norwegian!): www.gaula.no
Tackle
Take rods in the 14ft to 16ft range, handling 10/11-wt lines. Having a range of lines is important, and intermediates and sinkers are arguably the most popular. Leader strength should be no less than 15lb (25lb is more like it) as fish of over 20lb are quite likely to be encountered. As far as flies go, the most popular colour combination is black and green (usually tied with arctic fox), although the usual British colours will also work. Like the lines, take a wide range of sizes and styles or, better still, a fly-tying kit.
Some items of tackle are available from the tackle shop in Storen or the campsite itself but, like most things in Norway, at a price.
Important Information
YOU MUST read up on disinfecting your tackle (basically everything that will have come in contact with water) both before and after your trip. This is to avoid any possible transmission of the parasite Gyrodactylus salaris, which virtually destroyed salmon populations on several Norwegian rivers. The Environment Agency website gives all details of the parasite and how to prevent its spread.
Web: www.environment-agency.gov.uk
---