The 103rd Angling Trust Division 1 National Championships was held on Saturday 18th August 2018 on the middle Trent between Nottingham and Newark. 47 teams made their way to Nottingham Racecourse for the draw. The river was in great condition after a long period of hot and dry weather had seen river levels fall, water temperatures rise and only a brief break in the weather earlier in the week had eased concerns about fish welfare and had lowered temperatures.
The 470 competitors were greeted with an awkward westerly wind, but the river fished extremely well in general with only one dry net. Competitors were able to use a variety of methods with pole, feeder, waggler and the occasional stick float all in evidence across the sections which required a flexible approach to maximise each pegs potential.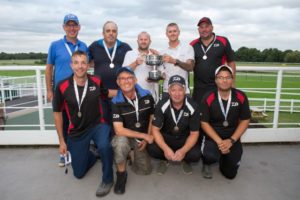 The team event was won by Barnsley & District with a total points score of 387, giving them a comfortable margin over Team Daiwa Dorking who totalled 361 points and third placed Lincoln & District AA with 327 points. Barnsley's tactics centred around a maggot feeder approach with worm hookbait.
On the Individual front Preston Innovations Thatchers, Ian Paulley is certainly having the continued success in Nationals that all competitors dream of. Having finished third individual in 2016 on the River Trent and winning a section in last year's Division One national on the Shropshire Union Canal, Ian went even further this year taking the individual title from peg E1 at NPS East Stoke with 45kgs 800grams. The peg had good form in the run up to this year's event and Ian took full advantage with a catch of 14 barbel to 7lb and 14 chub to 4lb on a hemp and caster feeder. A last cast barbel weighing 6lb secured the title for Ian, a sales manager from Blandform in Dorset who described the peg as 'every anglers dream' and only set up two feeder rods to attack his peg, with him only using one.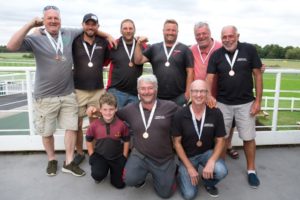 Runner up was Andy Bradley, Mirfield AC from K27 at Rolleston where he caught bream to 5lb throughout the match to narrowly miss out on the title. His 44kgs 200grams was one fish short. It was close for third place too with Darren Taylor of Sensas North from J14 with 43kgs 550 grams. Again, bream made up Darren's catch from an area which also produced a number of other top ten finishes.
Thanks and appreciation must go to Mark Morris, David Kent, Mick Gibbs, Mike Storey and Dave Watkins for all their help on the day, to the host associations Nottingham Federation, Nottingham AA, Nottingham Piscatorial Society and Newark Federation and their volunteers who worked so hard in preparing pegs, access and stewarding on the day. Thanks also to the Angling Trust, the results team and most importantly to all the anglers who came up to fish the match.
Top 10 team results
1. Barnsley & District – 387 points
2. Team Daiwa Dorking 361 points
3. Lincoln & District AA – 327 points
4. Starlets AS – 325 points
5. Lifestyle Match Group – 318 points
6. Daiwa Gordon League – 317 points
7. Daiwa Doncaster D A A – 311 points
8. Scunthorpe Tackle – 309 points
9. Shakespeare Superteam Bait Tech – 306 points
10. Browning Hotrods – 283 points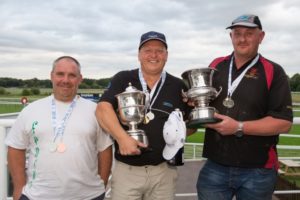 Top 10 Individual results
1. Ian Paulley (Preston Innovations Thatchers) – 45kgs 800grams
2. Andy Bradley (Mirfield A.C) – 44kgs 200grams
3. Darren Taylor (Sensas North) – 43kgs 550grams
4. Steve Joy (Matrix Image) – 31kgs 050grams
5. Adam Nurse (Wellingborough & District Nene) – 28kgs 0grams
6. Bob Ball (Sensas North West) – 23kgs 500grams
7. Richard Vaughan (Daiwa Doncaster D.A.A) – 20kgs 950grams
8. Roger Wakenshaw (Lincoln & District AA) – 15kgs 520grams
9. Craig Halksworth (Browning Hotrods) – 14kgs 540grams
10. Steve Webster (Tri Cast Calder) 14kgs 50grams
Click here for the full results
https://www.match-angling.co.uk/viewresults_public.aspx?rid=3123&dm_i=3XSU,G0SG,4E305U,1PHAD,1