Every sea angler will be aware of the need to keep sheltered during a beach-fishing session, especially in the cold, wet and windy winter months. But let us not forget that it can be equally important to seek shelter from the harmful properties of the sun in the summer!

Protection from the elements is not only useful for anglers, it's also a good idea to shelter your bait and tackle from both sun and rain. Worms, crab, squid… in fact any perishable bait can cost a fortune and a bright, sunny day can ruin it very quickly indeed. Likewise in the winter, rainwater and cold winds can make short work of your expensive baits as well.
So, in effect, the reasons for owning some form of cover for you, your bait and tackle are mounting up, and to be without one would, quite frankly, be crazy!
Shelters come in many shapes and sizes, materials and specifications. But for this test, we are only going to check out the ones that are suitable for the harsh conditions, which can be encountered on a day-to-day basis on the beach.
Useful Contacts
Shakespeare Company (UK) Ltd tel: 01527 510570
Lureflash tel: 01709 724700
Sundridge Tackle Ltd tel: 01634 252104
Svendsen Sports tel: 02920 713823
Daiwa Sports Ltd tel: 01698 355723
Badger International tel: 01472 828555
---
Shakespeare Navigator £52.00
Barney Says…
The Navigator is constructed from waterproof 1,000m PU-Coated Oxford Polyester and is supported by shock-corded aluminium poles. It is as light as a feather and when not in use, breaks down to a size that anyone could handle.
A nice touch is that it has a polythene, foldaway front window, which is brilliant for being able to see your rod tips when it is raining hard without the need to stick your head out. But at the same time, you can roll it back and out of the way when it is warm.
In my opinion it is a little bit of a fiddle to assemble, especially in windy conditions. Also, storing gear in it is a touch limited due to its acute shape.
It is a good shelter, and for the price you cannot really go far wrong.
---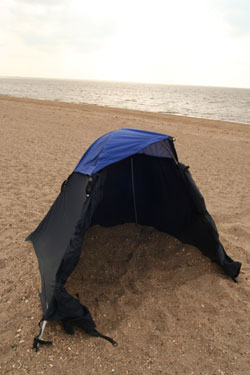 Sundridge John Holden Beach Buddy £139.99
Barney Says…
There can be no doubt that this shelter is the 'daddy' of all shelters. Its track record is second to none, and it is probably the best known and most popular on the market.
However, having sung its praises, I have to say that the latest one is more akin to a task on the Krypton Factor! It now comprises several separate pieces, whereas the original one went up in one go. The four legs each come in two sections, which makes the Buddy more compact for transporting, although they can be left in permanently if wanted. There are also two covers to locate for assembly completion, which makes it all a bit fiddly on the beach when it is windy.
Nevertheless, it is still a superb shelter and is the best of the bunch for withstanding extremely high winds and rain.
---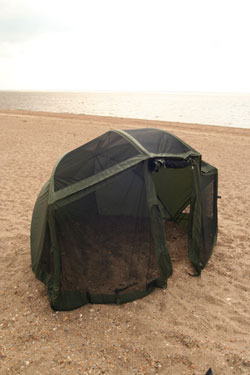 Berkley Umbrella £99.99
Barney Says…
Although we are quite used to shelters in the form of the Buddy etc, we must not forget about umbrellas and their practical attributes.
This particular umbrella is designed for the carp anglers, but it certainly also bridges the gap into the sea market, especially for summertime fishing.
It literally takes seconds to erect, and the one main factor that differentiates it from other umbrellas is that it does not have a centre pole. Instead, all you must do is open it just like you would with a standard type, and then simply locate two front legs onto the forward spokes. This allows for great stability in the wind, as well as creating a massive, sheltered area, which you could lie down in comfortably.
The mosquito front completely encloses the shelter bivvy-style, which would make a summer night session absolute bliss.
---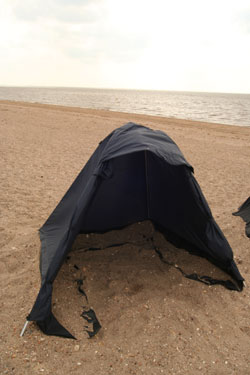 Badger Beach Dream RRP £59.99, now £39.99
Barney Says…
Manufactured from heavy-duty nylon and supported by aluminium legs, the Beach Dream is all that a shelter should be.
It is light, robust and can be assembled in a matter of moments, even in windy conditions.
For security in high winds, there are attachments that guy ropes can be tethered to, and adjustable feet allow the shelter to be set solidly on the rocks, beach or shingle.
This shelter is a no-nonsense bit of kit, and will keep you dry and out of the wind. Its simplicity is its strongest asset and to be perfectly honest it is hard to find fault with it.
The price has recently been dropped to an astonishing £39.99 due to limited stocks. So if you want one, it would be wise not to delay.
---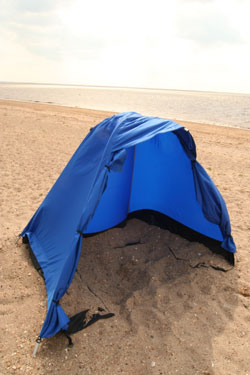 Powerstorm Beach Shelter £59.99
Barney Says…
This is a great example of a shelter and to be perfectly honest, it has all that a beach angler would need with regards to keeping under cover. Erecting it could not be any simpler, because all you need to do is open out the legs, of which the front legs locate positively into the metal block via a sprung pin. This gives the shelter a solid platform, as well as making it easier to put up in windy conditions.
Now all that is left to do is insert the front peg, pull over the cover and secure it using the Velcro fasteners… That's it! In only a matter of moments, you have a shelter ready to keep you, your gear and bait undercover from the elements.
It is a great shelter at a great price, and overall I rate this one the best of the bunch.
---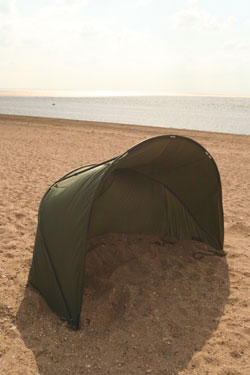 Ron Thompson Beach Shelter £49.99
Barney says…
This is another good example of how a beach shelter should be. It is light, waterproof and dead simple to put up – even in high winds.
There is plenty of space for you and all of your gear inside, and when it is assembled it stands very rigidly. The dynamics of the shelter allows wind to pass over it with little resistance, which, therefore, makes you feel confident that it won't take off during a strong gust!
The alloy legs are strong enough to be pushed into the sand for better anchorage, and as long as you are not 7ft tall, you could comfortably lie down and have a kip in it!
It is extremely well priced at an incredible £49.99, and is available in four colours, green, red, black and blue, one of which you should prefer and would like to be seen in.
---