Latest News and Information from Anglian Water fisheries
Week ending 30 October 2016
• Best Brown of the season at Rutland Water weighs in at 13lb 10½oz for Simon Ashton
• Grafham Water rod average is 6.26 for the week
• Don't miss out on our fantastic Fur & Feather matches
Ravensthorpe (boat) 6 November call 01604 770875
Pitsford Water (boat) 12 November call 01604 781350
Grafham Water (bank) 27 November call 01480 810531
Rutland Water (bank) 4 December call 01780 686441
www.anglianwater.co.uk/leisure
Rutland Water 01780 686441; Grafham Water 01480 810531;
Pitsford, Ravensthorpe & Hollowell 01604 781350,
Taverham Mills Fishery 01603 861014; Alton Water 01473 589105
Recreation Dept Anglian Water 01572 653021
Rutland Water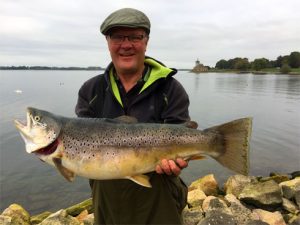 Fish week 292(Season 34,909) Returns 160 (8,287) Rod average 1.82(4.21)
Specimen fish have been a huge feature this season and none more so than the double figure Brown caught by Simon Ashton of Bourne. Simon caught a superb 13lb 10½oz Brown last Saturday. This is the heaviest Brown of the year caught just before the close of the Brown season. This lovely fish fell to a Perch fry pattern, Simon landed it whilst boat fishing the bottom of the South Arm. Simon was hoping to net a Brown over 6lb before the season ended and he managed that just days before his big fish – weighing in a fine 6lb 2¾. He has netted numerous fish around the 5lb mark this season, mainly Browns.
A number of other big Browns have been caught and released. Ralph Stripek from Derbyshire had a lovely 7lb 14oz Brown from the South Arm, amongst other fish, he enjoyed a manic hour's fishing late one afternoon. Several good sized fish have been returned around the 8lb mark from many areas including both arms, Sailing Club, and the end of the peninsula.
This week has also seen some good Rainbows caught. Father and son Simon and Elliot Guthrie from Newcastle fished Rutland for three days, taking seven fish for over 27lb including four Rainbows over 4lb. Toff Crowther of Oakham took some quality fish on Friday, returning two nice Browns. Season ticket holder Gordon Alleyne netted a cracking 5lb Rainbow last week.
Bank areas to try include Normanton, Spud Bay, Yellowstone, Old Hall, Barnsdale, East Creek/Disabled Bay and the Sailing Club. Fish are feeding on fry (Perch, Roach), Sticklebacks, Corixa and Snails.
Recent Competition news
Fry Feeders match 16 October
This two day match was fished at Grafham and Rutland. Local angler Graham Pearson was top rod over the two days with 14 fish for 38lb 4oz. Graham took eight quality fish from the south Arm at Rutland on the second day for 25lb.
George Moore Memorial Trophy (rudder) 29 October
This match for the best brace was won by G Pearson and Mark Haycock. The best fish weighed 5lb 6½oz and was taken by Mark Haycock.
1st Graham Pearson & Mark Haycock 9lb 9oz
2nd Mick Connor & Brian Bonner 7lb 13½oz
3rd Martin Hearth & Jim Watts 7lb 5oz.
This match concluded the 2016 rudder series.
Final results
1st Roy Bartrum & Colin Bartrum 44 points
2nd Dave Porter & Steve Crowder 41 points
3rd Adi Naylor & Dave Bradshaw 29 points
Best Rainbow 5lb taken by G Alleyne of Wansford.
Best Brown 13lb 10½oz taken by Simon Ashton of Bourne.
Best boat areas Many areas to discover (please note winter restrictions are now in place).
Best bank areas Be prepared to move around – many areas to try.
Best methods Bank – Fry, dries and nymphs.
Boat – As for bank and include various sinking lines, blobs, cormorants fro grown on stock fish.
Forthcoming events
Great price reductions on Predator ranges at our tackle shops
Fly fishing for Pike from 16 May (subject to boat availability).
Pike fishing with lure and dead sea bait 6 October to 31 January 2017
Please remember that Browns are now out of season and winter restrictions are also in place.
Rutland Water Fur & Feather (bank) 4 December
Grafham Water
Fish Season 23,907 Returns 4,192 Rod average 6.26 week (Season 5.7)
Anglers are enjoying some fantastic sport at Grafham either off the bank or close in on a boat producing a cracking 6.26 rod average this week. Most anglers are catching well in the mornings and evenings, whilst the afternoons are slower due to the bright autumn sun.
Bank anglers are reporting some excellent bags with some managing to land 20 plus fish in a session. Red letter day catches include 27 fish for Phil Jordan and a 21 fish bag for Martin Webster. Steve Jones landed a Brown just under the 6lb mark. G Tilley took a 4lb 4oz Rainbow, T Dean landed a 4lb fish and Tom Finney accounted for numerous 4's and 5's recently. Fabien Lepine landed two 4lb fish in one session. Again a very well done to all and keep that news coming in!
Some good fishing is still available from the boats; with the benefit of being able to cover vast areas of water and fishing close in where the bank anglers cannot gain access. The lures are coming into good effect with a humungous being a popular fly, along with snakes and boobies producing fish too. Look for areas harbouring fry for the chance of a
Grafham Water continued
decent fish or try shrimp patterns very close in and around areas with rocky substrate. Good areas reported this week include Hill Farm, Rectory Bay, Farm Bay, Church Hill Bay, the Seat, Sludge Point, the Dam, Sanctuary Bay, G buoy and Deep Water Point.
If you are bank fishing the best method is using shrimp patterns or hare's ears and diawl bachs. Some fantastic bags of up to 27 fish are being produced from the bank. The sport is predominantly in areas where shrimp or fry numbers are high. The harbour arms are producing good fish in the morning and evening, especially if you fish along the edge of the rocks. We've seen fish close to the 6lb mark landed over the last few weeks and these can be tempted on lures. Mander Car Park is an absolute must if you have your waders. Plenty of fish are moving just where the reservoir starts to deepen off and can be tempted on slow figure eights at all times of day.
Now a lot more anglers are wading, we would like to reiterate the wash down procedures. It is absolutely essential you wash down after your session finishes and we suggest fully drying all your equipment after use to help stop the spread of the non-native killer shrimp. Thank you all for your co-operation.
Please remember that Browns are out of season from 1st November and the winter restrictions on the nature reserve side of the reservoir are in place.
Predator fishing has become tough recently with few individuals being caught. However the recent well publicised 19lb Grafham zander must have increased some of your appetites for a fish! Once that first frost is here we hope to see an increase in predator sport. So watch this space!
Competition news
GWFFA third bank match 23 October
Martin Brocklebank of GWFFA kindly sent us the following news of GWFFA's final bank match of the season. "Thirteen GWFFA club members fished their third and final bank match at Grafham Water on Sunday 23 October, catching 74 fish for a rod average of 5.7. Most of the anglers opted for the North end of the dam and along the North shore. Winner Steve Jones found his fish along the G bank area with Hares Ears and Diawl Bachs on a floating line. Second place went to Hilary Tomlinson who netted her fish in the bowl on a small muddler. John Vincent caught his fish on diawl bachs at the Willows and weighed in by 10am. The best fish, a 2lb 15oz Rainbow, was caught by Steve Jones."
1st Steve Jones 8 fish for 16lb 10oz
2nd Hilary Tomlinson 8 fish for 15lb 14oz
3rd John Vincent 8 fish for 15lb 8oz
Grafham Water continued
Best Brown 5-6lb Steve Jones
Best boat areas West Bank, Sludge Point, Gaynes Cove, the Dam, B Buoy to G Buoy (drifting) and the Seat, Deep Water Point.
Best bank areas North and South Dam, Plummers, Mander Car Park and Deep Water Point, Hill Farm, Pylon Point.
Best methods See report.
Mid week boat winner Simon Exton of Catworth.
Forthcoming events
Great price reductions on Predator ranges at our tackle shops
Fly fishing for Pike to 31 January 2017 (subject to boat availability)
Pike fishing with lure & dead sea bait 1 October to 31 January 2017 (subject to boat availability)
Anglian Water Fur & Feather (bank) 27 November
Pitsford Water
Fish week 282 Returns 74 Rod average 3.8
The rod average for Pitsford this week is 3.8 and the bank fishing has out fished the catches from the boats.
The fish are right in the margins in three feet of water feeding on shrimp and fry. On milder days they have even been taking dries in the margins.
Season ticket holders Graham Hutchins and Chris Butcher have had a great week from the bank. Graham had 16 fish on Monday and a further 7 on Tuesday with another 7 on Saturday. He has been fishing shrimp patterns and black crippled midge to tempt his fish, many of which are overwintered specimens which he returns. Chris Butcher has been targeting fish around the weed beds with shrimp and fry imitations with similar results.
Newcomer Dave Mullen has had a fantastic first season, taking fish on most visits and having a fine brace on a recent morning bank session.
Best areas for both boat and bank are the Northfields shore, Stone Barn Bay, Gravels and Cliffs. Shrimp, hares ear, diawl bachs, dries such as crippled midge and hoppers or floating fry patterns are all worth a go.
Best boat & bank areas Northfields shore, Stone Barn Bay, Gravels and Cliffs.
Best methods See report
Mid week boat winner Brett Pollen of Milton Keynes.
Forthcoming events
Lure fishing and fly fishing for Pike to 31 January 2017
Pike fishing with lure & dead sea bait 1 October to 31 January 2017 (subject to boat availability)
Anglian Water Fur & Feather (boat) 12 November
Ravensthorpe Reservoir
Fish week 103(Season 11,233) Returns 24 (1,818) Rod average 4.2 (6.1)
Another week of good sport for anglers at Ravensthorpe. Various methods have been working, including floating or slow sinking lines with lures, minkies and blobs. Dries, buzzers and small nymphs have also proved effective.
The bank has been producing fish with some good catches. Ravensthorpe regular Alan Duffin caught and released 9 fish last Tuesday, fishing from the dam using bloodworm and buzzers.
There are a few Pike being caught on lures and dead baits. The best Pike of the week weighed 18lb and was caught on a sardine at the Coton End.
Best Rainbow 4lb 8oz taken by Robert Gratton of Telford.
Best boat areas Catwalk Corner, around island.
Best bank Dam, Platforms 4,5, and 6.
Best methods See report.
Mid week boat winner L Arnold of Upton, Northants.
Forthcoming events
Pike fishing lure & dead sea bait 1 October to 30 November
Anglian Water Fur & Feather (boat) 6 November. Followed by meal at the Chequers. Please call fishing lodge on 01604 770875 to book a place.