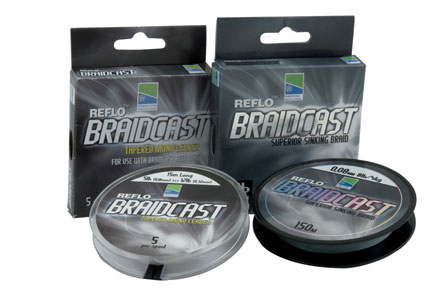 Braidcast Superior Sinking Braid
Braidcast has been designed especially for feeder fishing. Its awesome casting performance makes long range fishing easier and combined with the Braidcast Tapered Mono Leader hook-pulls at close range are almost totally eliminated.
• Quick Sinking Reel Line Braid
• Ultra Low Diameter
• Minimum Stretch
• Low Visibility
• 150m Spool For Distance Fishing
Braidcast RRP £12.99
Braidcast Tapered Leaders RRP £6.99

---
PRESTON INNOVATIONS
BRAIDCAST SUPERIOR SINKING BRAID
RRP: £12.99
Capacity: Supplied in 150-metre spools
Strengths: 8lb, (0.08mm); 10lb, (0,10mm)
Contact: www.prestoninnovations.com

tcf says: This ultra low diameter braid is spot-on when shy-biting skimmers at distance are the target.

Total Coarse Fishing, March 2007
---