Browning Hotrods were crowned team Champions at the Division 2 Angling Trust National Championships held on the River Trent on Saturday 22nd August.
The team won by the narrowest of margins taking the title by just one point. Their aggregate weight was an impressive 33.190kg. The team, mainly from Cambridgeshire, were Stephen Welford, Tim Nash, Will Freeman, Liam Darler, Chris Jenkinson, Neil Addcock, Phil Chesterton, Kye Jerrome, Ken Witmore, and Stuart Northrop.
Stephen Welford, Team Captain stated "the plan was for the team to start the match on groundbait feeder with 4 – 5 feet tails aiming to catch gudgeon then switch to either waggler or stick float and loose feed. If it got really hard we would change to small maggot feeder with a long tail. Last year in the Division 1 National we only had 9 anglers and this almost certainly caused the team's relegation to Division 2 for this year, but we are really happy that we have gone back up to Division 1 for 2010".
In silver podium position was Mirfield AC who just missed out taking the team winners position finishing second with 214 points. Mirfield's aggregate weight was 30.490kg – still over 3kg per man!. Reading FC took the third position with 211 points and big total weight of 45.530kg.
Nottingham AA angler Terry Ashton from Cinderhill, Nottingham had an impressive day winning the individual title and taking home the gold medal from peg A24 at Hamms Bridge with a winning weight of 20.480kg. Terry fished a groundbait feeder to catch seven bream and four perch on the day. In runner up position was local angler John Cartlidge of Vale AC on peg F26 in the Weir Field above Cromwell Weir. After losing four fish and then not having a bite until 2pm John came with a late run to win the silver medal with 15.900kg, fishing groundbait feeder with red maggot on the hook. In bronze medal position was Gary Spavins of Ampthill & District AA who caught 14.600kg of bream from peg F29 in the Weir Field also fishing groundbait feeder. Terry and John also went on to win their sections taking home an additional medal to add to their collections.
Given that the river was in very patchy form the top 16 teams all returned an impressive average weight of over 2kg per man and almost 8kg was needed to secure a place in the top 15 individuals.

Contact: Sandra Drew on 0115 9813535 (option 1) or sandra.drew@anglingtrust.net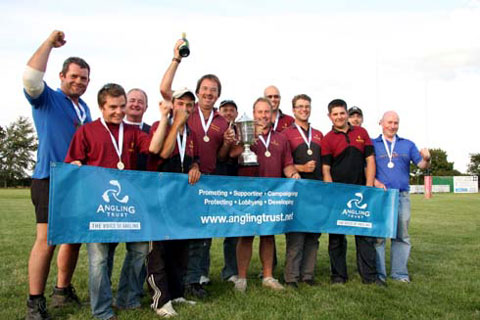 Browning Hotrods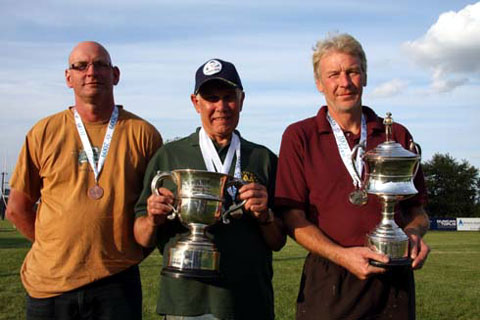 Division Two National top three
Click on www.total-fishingclub.com – the UK's No1 online match fishing club – to win a trip to the world match fishing championships, and save money off tackle