Round 2, Larford Lakes.
Luke Sears stormed to victory after drawing the end peg 76 on Larfords match lake, fishing worm down the edge, and pellets at 5 meters counted for all his fish, he now ties the lead with the consistent Darren Cox on 18 points after 2 rounds.
The wind and rain made conditions harder than normal, but there were still 10 weights over 100lb.
The next round is at Gold Valley on the 9th of September.
1st Luke Sears 70.820kg
2nd Dave Roberts 63.280kg
3rd Paul Coyle 60.960 kg.
Overall standings.
Luke Sears 18 points
Darren Cox 18
Tommy Pickering 16
Paul Yates 16
Ed Warren 16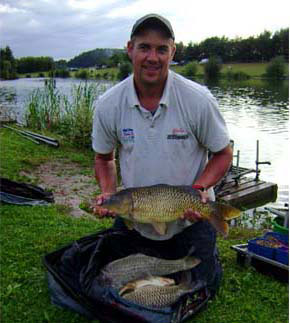 Luke Sears