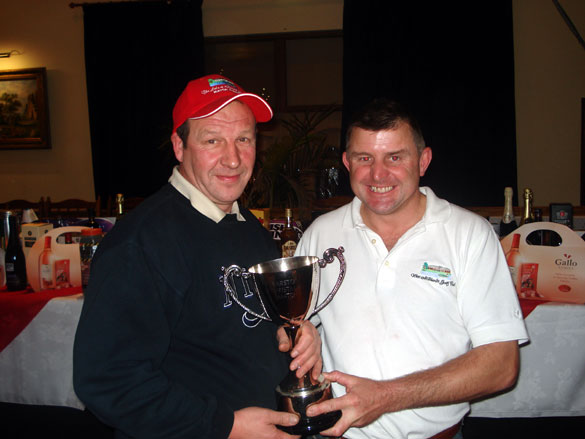 Coventry's Kenny Belcher (left) takes the Xmas match trophy from Barston Lakes owner Nigel Harrhy.
The Barston Christmas match was won by Coventry angler Kenny 'The Carp' Belcher, who made up for being runner up in the 100-pegger two years ago.
It was tough going for some in very cold conditions with quite a lot not bothering to weigh in, but Kenny, who won himself a Preston Innovations seat box, found himself on a 'pod' of feeding carp and used the Method to bring 45lb of them to the net on peg 48.
Second from the next peg was Kenny's Whitley club team mate, Wayne Sharman (Lane's Bait), who led for almost the whole match, only to be beaten by his mate in the last half an hour. Wayne finished with 35lb, again, all carp on the Method.
Third and making it a clean sweet for anglers from the Coventry region was another Whitley AC member, Dave Sinkinson, who weighed 33lb 14oz from peg 55, again carp on the Method.
Most anglers had expected silver fish to dominate as there had been some great sport with skimmers leading up to the match, but they refused to feed on the day following a couple of hard frosts, leaving only roach to go at.
Matt Hall took the best silvers weight of 20lb 12oz, with Steve Hemingray on 14lb and Will Raison weighing 13lb. Everyone took home a prize, after having Christmas dinner in the superb clubhouse overlooking Barston Lake.