Christmas has come early on the River Thames this year with the Environment Agency delivering a stocking packed with 1,250 barbel.
The batch of 18-month-old fish are being released in three areas along the river as part of an Environment Agency project to give the declining barbel population a boost.
The fish have also been marked with a small blue dye spot so that the Environment Agency can keep track of how the population is developing in the coming years.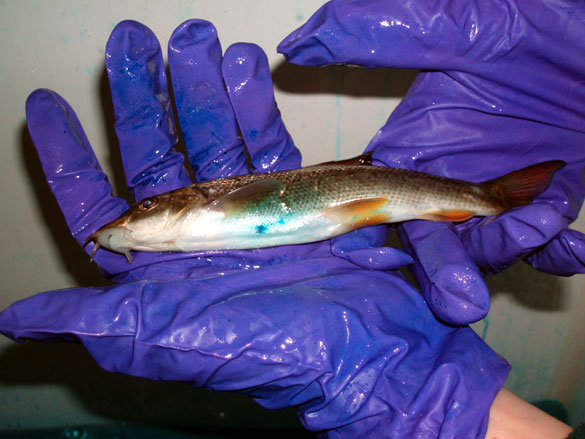 Fish marked with a small blue dye spot
Anglers are being asked to do their bit by reporting any catches of barbel which have the distinctive blue dots on the underneath of the fish. This will help the Environment Agency build a more complete picture of the fishes movements and survival rates.
Environment Agency fisheries officer Jenni Balmer said: "We hope these barbel will flourish in areas which have seen numbers decline. In later years we hope they will spawn to increase the population still further.
"This is all part of the Upper Thames Barbel Project, which we started in 2005.
This identified areas of the Upper Thames where barbell populations are under threat. We have begun a programme of habitat restoration to help the barbel, and this stocking is designed to complement this work."
The fish have been bred at the Environment Agency fish farm at Calverton, near Nottingham, which produced half a million fish last year. They are being released between Cricklade and Lechlade.
Jenni Balmer added: "As well as our usual monitoring programmes we are asking all anglers fishing the Upper River Thames to look out for these marks. If anyone is lucky enough to catch a barbel, and it is marked, we would like to hear about it."
Barbel, which can live up to 25 years, indicate high quality river habitat.
However, the species faces many pressures to its survival in the River Thames.
These include a lack of suitable spawning and juvenile habitats and impoundments, which is where the flow is reduced by structures on the river.
To spawn, barbel require shallow gravel areas with fast flows. Hatching larvae use still shallow bays, feed and avoid predators. As juveniles grow they use faster flows on shallow gravels. These habitats are necessary if larvae are to survive their first critical winter. In rivers without suitable spawning grounds nearby, adult barbel will migrate over 30 KM to spawn.
The EA carries out more than 500 fish stockings transfers every year. Stocking of fish can bring socio-economic and conservation benefits to fisheries by increasing the numbers and species of fish available for capture, or by restoring stocks lost due to pollution or habitat degradation.
Other stocking programmes this winter include 2,700 chub and 2,500 dace in the River Cherwell; and 2,150 roach, 500 perch and 500 bream in the Wiltshire Ray.
If you catch a barbel please contact Chris Bell on 01491 828358.