John Cox has become the NFA Veterans National Champion after putting 51.450kg on the scales at the end of the championships fished at Lindholme Lakes near Doncaster, on Wednesday 6th August.
The match was fished on seven of the 8 lakes at the renowned match venue in warm and overcast conditions, and saw many anglers put together good bags of carp, barbel, ide, roach, chub and perch despite low atmospheric pressure having some effect on the fishing.
It was the Newark rod, John Cox who came out on top from a field of nearly 240 anglers, all of whom were aged 60 or over, after a solid performance from peg 70 on the much fancied Bonsai Lake. John whose employer Subfish Tackle Shop will be hoping his gold medal is a good omen for the Subfish England Ladies Team who travel to Hungary next weekend for the World Championships.
After arriving at his peg John decided that fishing a feeder filled with micro pellets close in, would be a dead cert for his tactics, and judging by the way he won, his assumptions proved correct.
John commented, "I expected the lads on the other bank to start throwing feeders across but they left me alone, so I was able to plunder the swim really. I like this fishery and I came up twice to practice. Fishing the match was wonderful, this is a very good event indeed."
In second place was international star Mark Addy who wasn't able to find the form that saw him become the inaugural Veterans World Champion earlier this year. Mark finished in second place with 32.650kg fishing from peg 73, just 3 pegs away from John Cox on the in-form Bonsai Lake.
The joint team manager of Drennan Team England had sought the advice of record holding World Champion and Lindholme Lakes regular Alan Scotthorne. With his own knowledge and Alan's input, he fished worm up in the water on a far bank pole line that was fed with caster.
"Keeping the feed going in, even when playing a fish, was the key to it, and it meant there was always another fish waiting to take my hook bait. I fished this match last year when I won my section, and I'll be back again next year," said Mark.
In third place was an angler who made the long journey from Essex to Lindholme having never previously fished the complex before. Chris Tea used the pole to good effect after a slow start on the feeder. Fishing from peg 31, also on Bonsai Lake, Chris tempted 20.250kg of fish by using meat on the hook and keeping the swim topped up with chopped meat.
First timer Chris who also won his section said: "I started off on the feeder but it just didn't happen, so I went on the pole at 13m and it didn't happen there either! I saw a swirl close in on the right and that was it, I stayed there on the meat and did the job. It was brilliant; I didn't have any practice and this was the first time I'd entered."
Also fishing the match after a break of some years from angling was Sheffield MP and former Minister for Sport, Richard Caborn. Although his two perch and several gudgeon weren't quite enough to put him into contention for the top spot, he was quick to recognise the importance of match fishing in the continuation and development of the sport.
He said: "The type of fishing here today is the modern face of the sport and the angling equivalent of rugby sevens or Twenty20 cricket, which have done so much for their respective sports. We need to get more kids into match fishing to ensure the future of events like this.
I'm a veteran now and fishing this event is like a big annual reunion of the people who have fished together over many many years. After today I'm sure that I'll be spending some more of my leisure time on the bank, enjoying the sport and the surroundings. "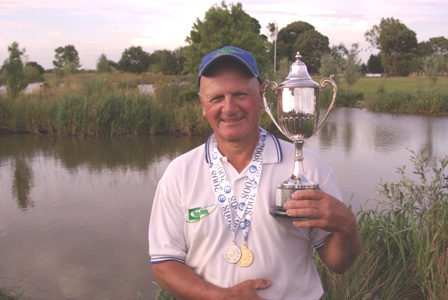 Winner John Cox with his his spoils…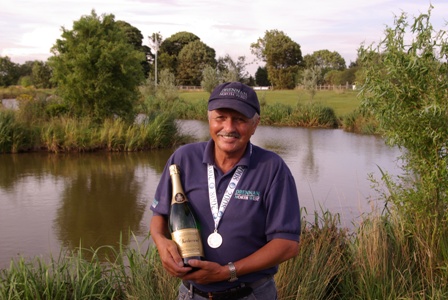 World Vets champ Mark Addy finished in seconds spot.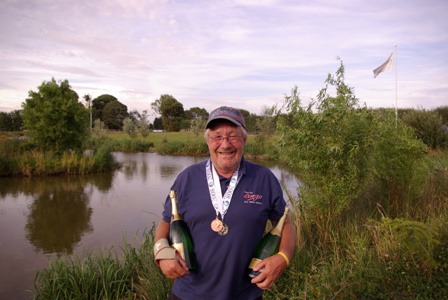 Third placed Chris Tea….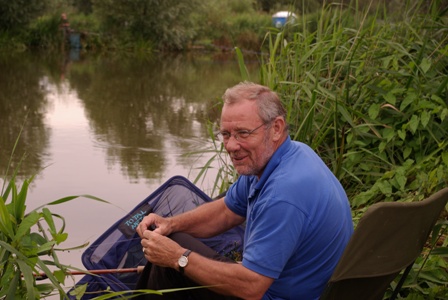 MP Richard Caborn joining in the fun…