Nottingham's Peg One Angling Centre has been helping out the area's anglers for some 20 years and has earned a reputation as one of the best match angling tackle shops in the Midlands.
It's not just that the shop has virtually everything today's competitive anglers want, but owners Lee and his dad Arnie are both match anglers themselves and regular faces at venues like Sherwood and Hallcroft Fishery, and they offer proper, right up-to-date advice when asked.
When we called Peg One, Barnsley Black and Maver rep Andy Kinder was in the shop. "Peg One is a fantastic shop that stocked everything that's worth having," he said "Lee and Arnie always have what match anglers are currently using, which is why so many good matchmen use the place and keep coming back."
Examples include the Sensas pre-tied hooks that seem so hard to get hold of elsewhere, but are always available at Peg One, and the Pierotti hook tyer.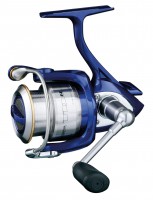 Great deals on Daiwa's TDR reels.
Peg One will match anyone's price on the full range of poles from the likes of Maver and MAP, and they have a terrific pole repair service.
"I would imagine our pole repair service is the cheapest in the UK – it can be done by post, but if you bring a broken pole section in, we can have it back to you the next day," says Lee.
Peg One now has a really easy to navigate website at www.pegonefishingtackle.co.uk , which is noted for its reliable, fast service and offers free delivery on all Internet orders over £100.
There are plenty of standout deals on there including the superb Daiwa TDR 2508 and 3012 Feeder reels which have an RRP of £175 and are currently on offer at just over £100.
"We've not got everything on the site all the time, but basically if you are a match angler and you need something, call us and we'll get it for you," adds Lee.
"For instance, we've just had the new Preston X2 box in today, which is just a great deal. You get a box with a 30cm and 60cm side draw, winder tray and cassette footplate all for £179.99."
Lee can be contacted at Peg One on 01773 510324, or by email at leepayling06@aol.com , or just visit the website at www.pegonefishingtackle.co.uk .