Strong winds and clear skies made this 55-pegger another difficult round as the roach and skimmers declined to feed, but Drennan Team England ladies put in a solid 19 point score to win on the day, a point ahead of Daiwa Dorking who drew the same peg they won off last match.
Second team on the day however was more than enough to secure a league win with stunning 69.5 points overall.
Runners up in the league were Kamasan Starlets Blue, third Kamasan Starlets Red and fourth Kamasan Starlets Green.
The individual honors on the day went to Milo backed Simon Wilsmore who had an all F1 catch of 13lb 6oz from in form peg 67 in the deeps.
Opposite him Welsh International Lee Edwards took second spot with 11lb and Callum Dicks made it a 'deeps' 1-2-3 from peg 69 with 9lb 8oz.
Individuals
1. Simon Wilsmore Daiwa Dorking 13lb 6oz
2. Lee Edwards Kamasan Starlets 11lb
3. Callum Dicks Barston 9lb 8oz
4. Sam Perkins England Ladies 7lb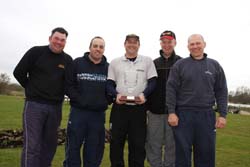 The winning Dorking team…

Final Team Result
1. Daiwa Dorking 69.5
2. Kamasan Starlets Blue 90
3. Kamasan Starlets Green 105
4. Kamasan Starlets Red 120
5. Garbolino Banbury Guns 124.5