MAKINS THURSDAY 'KOBRA' AFFORDABLE OPEN
VENUE: LAGOON, Makins Phase 2
DATE: 5 March 2009
RESULT
=1st Ian HUGHES Coventry 33 lb 2 oz
= 1st Gaz WOOD Browning Central 33 lb 2 oz
3rd Eddie KEENE Coventry 30 lb 10 oz
4th Danny ROSS Wykin AC 20 lb 10 oz
5th John ADAMSON Kobra Feeders 20 lb
Number of pegs: 20
Report:
A sharp overnight frost plus some snow during the day failed to make any impact on sport for the Makins Thursday 'Kobra Affordable Open' fished on Lagoon on Phase 2 of the complex, when an average weight of over 17 lb per angler (mainly 'silvers') was weighed in, and a tie for first place between Coventry's Ian Hughes and Browning Central ace Gaz Wood, both with 33 lb 2 oz, taken to contrasting methods.
Ian Hughes (peg 15) alternated between a small open ended feeder and straight bomb with corn as bait, and casting close to an island kept small carp interested throughout the match to finish with 33 lb 2 oz. Gaz Wood however, opted for long pole (18m) to reach an island to take 5 carp to around 6 lb (losing two others), which he backed up with several skimmers and roach for his 33 lb 2 oz total.
They were pushed close by Coventry's Eddie Keene (peg 23) who fished short pole to open water and the margins for 3 big carp, a big perch and several roach and skimmers for his 30 lb 10 oz catch.
Wykin AC's Danny Ross took one carp (1st cast) plus a net of skimmer bream on pole fished (13m) pellet for 20 lb 14 oz, edging out Kobra Feeders backed John Adamson's 20 lb catch of a barbel, 3 small carp, 2 tench, plus skimmers, roach and rudd, mainly taken on pole fished (7m) maggot up in the water in the last 2 hours.
It is hoped to hold next week's match (12 March) on the Lizard, Phase 2.
NB. 'Kobra Affordable' Opens are at Makins each Wednesday (Phase 1) and Thursday (Phase 2 or 3). Telephone 07749 284 823, or be in the Car Park by 8.45 a.m. (£15 all in at the draw).
MAKINS WEDNESDAY 'KOBRA' AFFORDABLE OPEN
VENUE: Lake 2, Makins
DATE: 4 March 2009
RESULT
1st John ADAMSON Kobra Feeders 82 lb 4 oz
2nd Jim INNES Nuneaton Nomads 33 lb 8 oz
3rd John MARSHALL Nuneaton Nomads 21 lb 2 oz
Number of pegs: 18
Report:
After a very hard overnight frost anglers expected slow sport in the Makins Wednesday Kobra Affordable Open match on Lake 2, but were pleasantly surprised when most competitors caught a carp in the first hour of fishing. Unfortunately, for most, sport failed to continue.
One exception was Kobra Feeders backed angler John Adamson. Fishing peg A20 casting a light bomb with hair rigged corn towards the island, John kept bites coming throughout the match, and had it not been for 4 fish lost on snags (gear lost by previous anglers) he would probably have 'topped the ton'. His 14 carp totalled 82 lb 4 oz.
Runner up Jim Innes (Nuneaton Nomads), on peg B16, caught 5 carp, a tench and a large white 'goldfish' on corn and 'pellet cone' fished in open water. His travelling companion, John Marshall, took 2 carp and some roach on pole fished corn (8m) from peg A20 for 21 lb 2 oz, both carp coming in the first hour.
Carp were rising in most areas of Lake 2 towards the end of the match showing that fish are now spread over all areas, which should lead to good sport over the coming weeks.
NB. 'Kobra Affordable' Opens are at Makins each Wednesday (Phase 1) and Thursday (Phase 2 or 3). Telephone 07749 284 823, or be in the Car Park by 8.45 a.m. (£15 all in at the draw).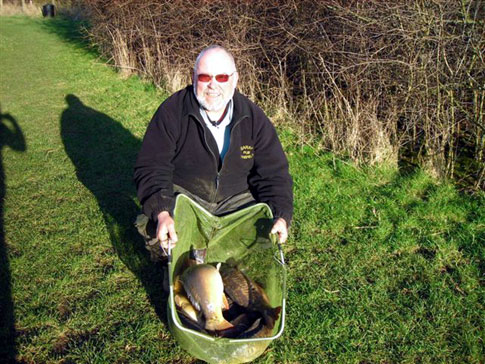 Photograph shows John with 50 lb of his catch
Click on www.total-fishingclub.com – the UK's No1 online match fishing club – to win a trip to the world match fishing championships, and save money off tackle.