Fishery Description
NOW under the ownership of Terry Sears and sons, Hallcroft is one of the country's leading commercial venues offering match and pleasure anglers access to some superbly well-stocked lakes, and part of the nearby River Idle.
There are five main lakes on site plus caravan pitches, a licensed bar and an extensive cafe and secure car parking.
The main lakes are Croft at 28 pegs, Moat (186 pegs), Reed (47 pegs) and Bridge at 84 pegs. All have a hefty stocking of carp averaging 3-4lb, plus bream, roach, rudd and tench. There are also five so-called stock ponds, which are popular with pleasure anglers.
In summer the main advice for pleasure anglers who can pick their peg is to fish into the wind on the main pools, while in winter fishing around the aerators pays dividends. There are five aerators on Moat, three on Bridge and one each on Croft and Reed.
At the time of writing, pellet fished on the deck is the key catching method, although paste is expected to take over through the warmest months along with pellet fished shallow.
When we visited the water to check out resident ace Jamie Masson's paste fishing prowess, he elected to fish on Croft Pool. This lake is being landscaped so that each peg will have a feature at 11m to fish to and depths will drop to about 5fr, from 8ft.
"I rarely fish with just paste on its own here," he says. "I tend to combine it with pellets, which are used as the main attractor and the paste as the hook bait, although I do switch to the pellet on the hook too. I start by finding the depth at around eight metres out and this will typically be my main line of attack for the paste."
"The reason I fish short is because it's much easier to hit fast paste bites with a stiffer pole. A distance of 8-9 metres is perfect for this and here at Hallcroft you will generally find a depth of around 6-7 feet on this line on all the pools on site."
"I also know that the bigger fish I seek will come to feed that close in too. I will also feed and fish a line at around 12-13 metres, which will be just for pellet up in the water. These are my summer tactics."
At the start of the session, Jamie feeds a cup full of pellets on both lines. The pellets have to be the Hallcroft ones only available on site – no others are permitted.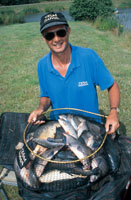 Tommy Pickering with a typical Hallcroft bag
His paste is made from Swim Stimm groundbait and ground pellet. Generally speaking, Jamie has found that the bigger fish will take paste near the bottom initially. However, if the temperature is high then the bigger fish may well be off the bottom.
"That's why it's important to keep both options open of using both pellets and paste," he adds.
Jamie uses Dick Clegg size 12 and 14 elastics for this style of carp fishing and 0.14mm TDM rig line for the pellet and 0.18mm for the paste rig, both fished direct to the hook. The hook for the paste is a NU Pole Hook from Drennan in size 14 with the pellet attached with a John Roberts Bait band to a size 14 PI Pro Carp Barbless hook.
"I use the Dick Clegg MK1 and 2 float patterns and have a small bulk of No1 shots set just about 12 inches from the hook with no real need for a dropper shot," he says.
"Once I've fed the paste line I'll introduce pellets to the far line every five minutes or so with a catapult. I won't feed the paste line again until I start catching. Then I'll top up with a quarter pot of pellets after probably every third fish or so," he adds. "But I will keep feeding the pellet line and if I need to rest the paste line or it dies, I'll switch to fishing pellet shallow on that line."

TF Top tip
If you squeeze the centre out of a grain of corn it will sink more slowly. This can be a deadly tactic for catching carp on the drop.
Venue Fact File:
Hallcroft Fishery, East Retford, Notts
Contact: Terry Sears on 01777 710448, email Hallcroft@hotmail.co.uk
Day tickets: £5 adults, £4.50 seniors, £4 juniors.
Wesite: http://www.hallcroft-fishery.co.uk/
Matches: Open matches are held every single day with midweek events attracting around 40 anglers and weekend opens getting 50-70 rods. The venue's match record is 160lb, taken from Bridge Pool peg 12. Club bookings are taken at £5 per peg although most weekend dates have been taken this year. The best club match weight so far this year was 80lb from Reed.
Restrictions: No keepnets except in matches, barbless hooks only. Only pellets bought at the venue's tackle shop can be used as feed (you can use any hook pellet). It's barbless hook only, no Method feeders are permitted and floating baits can only be fished on the pole. Bloodworm and joker are allowed, as is cat meat. Maximum pole length allowed is 14.5 metres.
How to get there: Hallcroft Fishery lies at the rear of the Hallcroft Industrial Estate off the A638, about half a mile from East Retford town centre. As you approach East Retford, follow the signs for the Hallcroft Industrial Estate. Hallcroft Fishery is signposted as you enter and drive through the estate.
Latest Form

[posts-for-page cat_slug='hallcroftfishery' hide_images='true' num='20' read_more='
Read More »' show_full_posts='false' use_wp_excerpt='true' strip_html='true' hide_post_content='true' show_meta='false']