These excellent new hooks from the Drennan stable were given to me by England's Steve Hemingray when we filmed at Tunnel Barn Farm for the first episode of OnlineFishing.tv's 'Match TV' series (see http://www.onlinefishing.tv/channel/list/none/34/latest/1/ ) .
Steve, who as I write has just missed out at the Shrewley venue in the 2009 Fish 'O' Mania qualifier there, opted to fish bloodworm and joker, knowing that he would encounter silver fish but also plenty of bonus F1s and the odd carp and tench.
The spade end pattern has a chemically etched needle point and is ideal for this kind of circumstance when you are fishing a bunch of bloodworms or using casters, pinkies or maggots, and also has just enough of a gape for a small hook pellet.
It comes in packs of ten and is an ideal cold water hook when fishing a commercial water when you need to fish smallish baits but might encounter quality fish in amongst the silvers.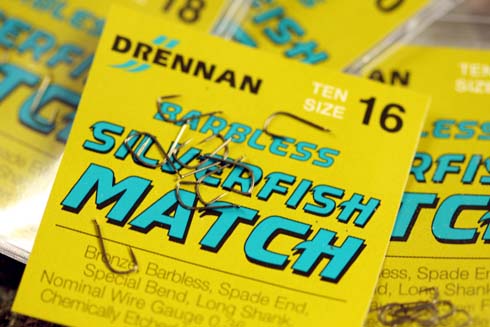 Drennan Silver Fish Match Barbless – ideal on stocked waters in colder weather
when there's the odd bonus fish feeding.
Sizes: 14-22
Price: £1.10 for a packet of ten
Buy: /tackleshop.aspx
Geepster