Drennan Barnsley Blacks have done English match fishing proud by taking gold at the prestigious World Club Match Fishing Champs in France.

The event, described as the Champions League of match fishing, brings together the best match fishing teams from all over Europe, with 24 teams taking part this year.
Until last year England's only success had come with Essex's triumph in Italy over 30 years ago. However, Barnsley's success makes is two wins in two years following Daiwa's breakthrough success last year.
The team consisted of Lee Kerry, Sam Wildsmith, Alan Scotthorne, Matt Godfrey, James Dent and Frankie Gianoncelli – but as always with a team success the background support proved vital.
Lee Kerry takes up the story:
"This is the greatest moment in my fishing career to date. It's just a fact," said an elated Lee on his fishing blog. "This is something that I've desperately wanted and the team has wanted. It was the one missing thing from Alan Scotthorne's fantastic CV.
"The Saint Quentin Canal is a bit like a cross between the Stainy and Gloucester Cana. There are lots of skimmers in it and nice colour to it, but it's a bit shallower than the Gloucester.
"When we got there it was soon very clear there were loads of fish to catch. In fact over eight days I had a bite almost every put in.
"When you get loads of bites like that, the key is to work out how to catch the bigger fish. We worked together really well and had great support, including from some French internationals. Denis White came for whole week. I know how much it meant to Denis to try and win this event. He's switched on and can spot things and it really helps having anglers of his experience on the bank."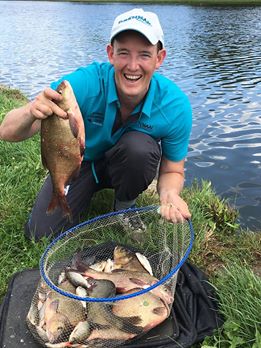 Drennan Barnsley's tactics were to try and pick off the bigger skimmers at 13m, or in the wider areas with a slider as well, but also to try and make sure they had a roach line so they could avoid a blow-out in areas where the skimmers were hard to come by.
By the end of practice week it was pretty much an out-and-out bloodworm and joker match, as it so often the case in these international events.
On the roach line they fed a groundbait mix of equal quantities of Sensas Gros Gardon, Super Canal Black and brown crumb.
Out on the skimmer line it was important not to attract too many roach, and they went for a Lake mix, with plenty of Terre de Somme to hold skimmers there for a long time, and Super Canal Black to darken the mix off.
"Over the week we built up a picture and it was looking like we had a chance," continued Lee.
Come match day it was left to the angler to work out the best line for roach because there was plenty of variation in depth.
"We each had to manage the peg to get the best out of it and the Blacks really thrive on this," said Lee.
Day one went well with the Blacks coming out joint leaders with 28 points. The surprise package was Finland. They have a venue very similar to this one and had gone out-and-out for skimmers and it had paid off. Italy were third with 32pts, with Ukraine on 35, Austria on 36, Hungary on 37 and favourites France on 43. Sensas Ireland struggled.

"Come day two we were always going to stick with the same plan," said Lee. "I didn't want us going 'gung ho' for bream – we knew Finland were going to do that. Fortunately it started to pan out that they were not all catching skimmers.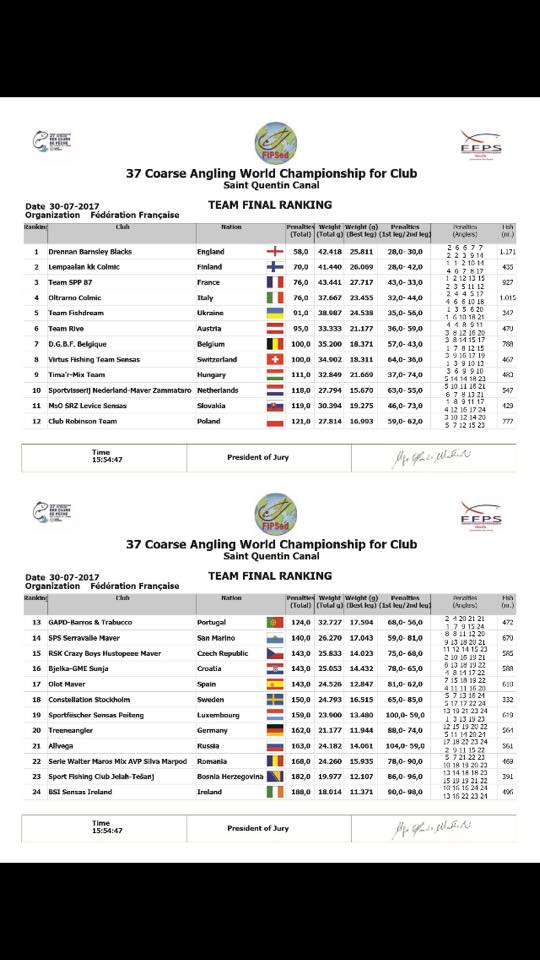 "Despite a couple of bad draws the lads pulled it out in the hard bits and got good points with roach – that's what team fishing is all about.
"I had a lovely day's fishing with over 100 roach – head down and put as many fish in the net as possible with 3kg 080gr for third in section."
Finland (42pts) did manage to hold on for silver, a great result for them, with France having a very good day (33 points) and taking the bronze medal home. But Drennan Barnsley Blacks tactics proved to be spot on, with 30 points on Day Two for a 58 point total, a full 12 points clear.
"The standard is incredible and this is a dream come true for us," added Lee. "Last year Daiwa Dorking won it for England for the first time in 30 years. That tells you how hard it is. I knew that we could do it if we got the right sort of approach and enthusiasm and really practised well. I knew we had the anglers capable of doing it."
Lee Kerry Quits Running Winter League Due to Criticism
"I did see that the Angling Trust has changed the rules for qualification for the World Club Champs to an international style fish-off. We were all in France when we found out," added Lee.
"I actually like the idea of fishing an event with similar styles and rules to the event. I would like to see the chosen venue mimic the style of venue chosen for the event itself. Next year's World Club Champs is a big rowing course with carp. The AT are talking about using a stretch of the Trent for the qualifier. I can understand why some people are frustrated.
"Some people have said that Barnsley were influential in this decision. I can tell you none of us knew anything about it. We were all very disappointed with some of the comments made. I have decided to leave running the winter league as a result of the remarks. Those of you who have made those accusations, you've just lost a match organiser as a result."


THE VICTORIOUS DRENNAN BARNSLEY BLACKS TAKE TO THE PODIUM AFTER WINNING THE 2017 WORLD CLUB MATCH FISHING CHAMPIONSHIPS.
LEE KERRY'S MATCH FISHING BLOG
LEE KErRY ON FISHING BIG CANALS