The Compact Acolyte Plus 13ft is light, slim and powerful. A patented design allows it to neatly fold away into two plus a short handle section for ease of transport.
This clever design enables the rod to be stored made-up while still being a manageable length for transportation.
It also comes with its own padded Acolyte Compact Rod Sleeve with retaining bands and rod socks to help protect the rod in transit. The Compact Acolyte Plus 13ft has an almost identical action to the standard three-piece Acolyte Plus 13ft.
The unique way it is constructed actually means it is fractionally better balanced. It also has a super-slim blank with reserves of power to cast larger floats and subdue quality fish like carp, tench and chub with ease.
The tip is crisp enough to control the line and connect with bites effortlessly while being forgiving enough to keep hook pulls to an absolute minimum. As with the entire Acolyte family, the Compact Acolyte Plus 13ft is a joy to fish with! Traditional three-piece 13ft and 14ft Acolyte Plus models are also available.
Features:
13ft (3.96m) length is suitable for a wide variety of venues
Ultra slim, lightweight and perfectly balanced float rod with reserves of power
Patented design allows rod to pack away into two equal length sections plus a short screw-in handle
Ideal for assembling or packing away in seconds
Best matched with reel lines from 4lb to 6lb+ (1.8kg to 3kg)
Suitable for hooklengths from 3lb (0.13mm) to 5lb (0.16mm)
Padded rod sleeve, retaining bands and rod socks also supplied
For the angler who demands the very best
Peter Drennan on the Compact rod system: "This patented construction effectively brings 13ft rods down to 12ft transportable sections. It's a simplistic yet revolutionary design which improves rod balance and action by having just one ferrule in front of the hand: so it's two jointed instead of three. It also means that terminal rigs and floats can be left in place over a section of nearly 6ft and stored securely, ready for use, in their high quality, padded rod sleeve. For improved performance and easy storage, some top anglers who were perhaps a bit unsure about the design at first, now prefer Compact rods!"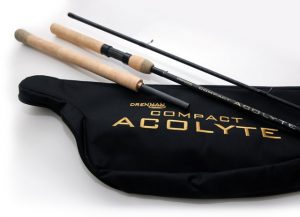 RETAILER LINKS
http://www.benwick-sports.co.uk/float-rods/5263-drennan-compact-acolyte-ultra-13ft.html
http://www.nathansofderby.com/latest-additions/match/drennan-acolyte-plus-float-rods
https://poingdestres.co.uk/acolyte-ultra-13ft-14ft-float-rods