Dry-fly fishing is probably the most visually exciting and enthralling part of our sport. It also demands a certain degree of skill to cast to locate the fish, to match the hatch and then to present your fly in a natural manner. These skills are as important today as they have been for more than 100 years!
Most of our early season dry-fly fishing will be mostly concerned with midge patterns, whether it be flies that are fished on the surface or actually IN the surface film. For example, shuttlecock patterns, where the cul-de-canard (CDC) feathers are tied forward of the eye of the hook, allow the body of the fly to be suspended below the surface of the water, matching flies that are just about to hatch.
To represent the fully hatched adult insects that sit ON the surface, we may choose a Sedge Hog, parachute or stimulator style pattern. To be honest, it is hard to categorise some flies because the modern-day dries are so versatile and can be made to represent different stages of an insect's life cyle simply by applying floatant to a particular area of the fly.
For this feature I was lucky enough to spend a day on Rutland Water with my Rutland Raiders team-mate Stuart 'Turbo' Hume.
Two days prior to my visit I received a text on my mobile from Iain Barr; he was out on Rutland filling his boots with 3lb-plus rainbows on dries!
It turned out that he had been drifting on open water all the way along the Manton Shore across to Yellowstone… the place was alive.
They were feeding hard on large black midges, which is something I have witnessed in the past but never on the scale that I was to witness that weekend – it was amazing.
With fish feeding on both drowned flies and those skittering across the surface that weekend, I had the best early season dry-fly fishing I have ever experienced.
I watched with great interest the large browns coming up and slapping the emerging flies with their tails to drown them! In fact, when targeting the fish in that area, Stuart and I both hooked browns slightly above the tail. Those fish were so fast; sometimes your line would tighten and you would catch the slightest glimpse of the fish – but it was off again in a split second.
Where To Start
At 3,300 acres, local knowledge is a massive help on a giant like Rutland Water.
Rutland is a vast expanse of water and can be daunting to even the most experienced of fly anglers. Although its area measures approximately 3,300 acres, it can be split into three sections: the North Arm, South Arm and Main Basin. Still, local knowledge is key. I am very humbled by the fact I can count on both of the Barr brothers as not only fantastically gifted anglers but close friends as well and they both know this great expanse of water like the back of their hands. Being able to pick up the phone and find out where the fish are and what they are feeding on is great – all I need to do is to go out and catch them!
All of the wardens on Rutland are very knowledgeable of what's catching and where, so before you go out have a quick word with them to pick their brains. This is especially important if the weather has been settled for a few days; they will even be able to tell you about the likelihood of hatches and where to find them.
While I'm on the subject, settled weather is a must for consistent early season dry-fly fishing with shallower water a better bet, as it will heat up quicker.
Talking Tackle
We already knew where the fish were, so setting up was the next job.
I set up with a 10ft 7-wt rod and a reel loaded with a floating Airflo Ridge line. I use a tiny Roman Moser braided loop on my line, which does not add any weight to the tip of my floater, helping it ride high in the water.
My leader set-up was a three-fly rig of approximately 18 feet of 4lb Drennan Ultragreen. Why? Simply because I've used it for years and am confident in it – therefore I only get smashed due to my own incompetence!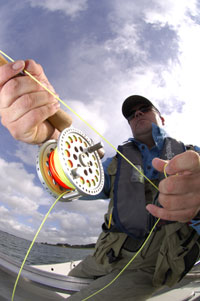 A slow figure-of-eight retrieve keeps a tight line between the angler and the fly – helping you hook fish.
Flies And Floatants
My top-dropper fly was a size 12 Olive Half Hog Hopper. In the middle was a size 12 When All Else Fails (WAEF) black midge pattern and on the point was a Claret Half Hog Hopper, again a size 12.
This leader material floats so, to help take the shine off it and get it to sink, it's essential to apply a sinking agent like Orvis Mud to approx 18 inches either side of each fly.
I use Mucilin floatant on my flies as I don't like the tiny oily slicks coming from them that you get with some of the other floatants. To be honest, I grew up fishing dries on hill lochs for wild browns and never needed to use anything else – why change when you are happy with what you have got?
As I mentioned earlier, the Half Hogs are flies that can be fished in or on the surface, depending on how much floatant is applied. The middle fly is only lightly coated and can be even more effective just under the surface so don't worry if it sinks – you will be surprised how many fish will take it!
Jim's Top Reservoir Dries

Half Hog
Hook: Size 12 Fulling Mill dry fly
Thread: Olive 8/0
Body: Olive micro UV Straggle
Wing: Olive buck deer hair
Legs: Olive pheasant tail fibres, knotted
Note: Colours can be altered to suit hatch
Waef Midge
Hook: Size 12 Fulling Mill dry-fly hooks
Thread: Black 8/0
Tail: Twisted black Flexi Floss
Body: Black micro UV Straggle
Wing: Natural CDC
Hackle: Black cock, clipped underneath
Shuttlecock
Hook: Kamasan B400
Body: Lureflash Multi-Colour
Thorax: Red micro UV Straggle
Wing: Six CDC feathers, clipped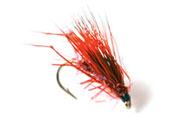 Half Hog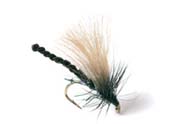 Waef Midge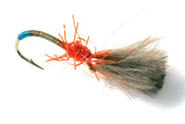 Shuttlecock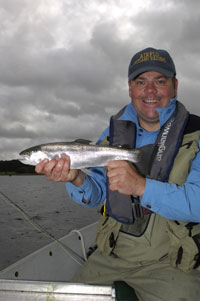 You won't see a better-looking rainbow trout than this anywhere!
Dry-Fly Approach
So it was off to Manton we headed. Upon arrival we noticed how the wind was blowing offshore and there were clouds of midges seemingly dancing above the trees – always a good indication of the place to start.
We also noticed that the spent flies (the dying insects that have laid their eggs) were being blown out to the edge of the ripple where the hungry trout were picking them off easily.
Imitations fished static in this area were the most effective, as any movement at all was met with refusal.
My methods of fishing dries from a drifting boat can be broken into two main types:
1 Fan Casting
Cover all of the water in front of you, giving the flies no more than 15 seconds in one area, before lifting off and casting at a different angle. Fifteen seconds is long enough to give any trout the chance to take!
2 Chuck It And Chance It
Cast out your flies in front of the drifting boat. As your boat drifts onto them, slowly take up the slack line to keep in contact with them at all times.
The last few seconds before recasting are also important due to following fish not being able to make their minds up whether to eat them or not, but a slight increase in the speed of your flies is often enough to induce a take.
Incidentally, I have also found that it pays dividends not to strike hard but to lift your rod once the fish have taken your fly. This generally brings me many more successful hook-ups, especially when using 4lb tippet!
With me fan casting and Turbo chucking it and chancing it, we steadily picked up fish drifting from the bank into open water. We also went looking for 'wind lanes' in the open water and picked up brown trout in them. Wind lanes (calm channels on the surface) are areas in which, due to turbulence in the water, flies seem to get caught so there will obviously be trout in them too.
Later on in the day the hatch died off following a drop in air temperature and the fishing slowed. After moving down to New Zealand point, I changed my leader set-up and went onto two small Half Hogs with a size 12 Booby on the top dropper. After casting, I tweaked the Booby through the waves with the small flies trailing behind.
We ended up landing and releasing another dozen or so fish, each coming to the small Booby and turning back onto the Hogs. The fish were still high enough in the surface but only switched back on when the Booby was making a wake going through the waves, drawing them to the disturbance.
Dry-fly fishing is a much-underrated technique when fishing on big reservoirs, so next time you go out, try putting up your spare rod with dries and give them a go. It's an excellent way of picking up quality fish and, with the right location and a little knowledge, it's easy to catch them!
Fact File

Rutland Water
Location: Edith Weston, Rutland
Open: April 1st to December 31st (boats finish end of November)
Tel: 01780 686441
Web: www.anglianwaterleisure.co.uk
E-mail: fishing@anglianwater.co.uk
Prices:
Full day: £18 for eight fish
Half day: £13 for four fish
Boat: £25 for full day
---