The landscape of competition carp fishing has been redrawn by two Dutch masters after a week of building tension in the picturesque Italian countryside.
The 2013 World Carp Classic trophy went to Lizette Beunders 43 and Bianca Venema 37, who brushed aside their opposition to win by one of the biggest margins, over 173 Kgs (382lbs), in the history of the competition.
The weather, like the rolling countryside, was changeable, with rain on the first day followed by a particularly variable wind, changing strength and direction several times over the five day event. Ending up with a spectacular storm on the last night. Rather than hindering the Dutch pair, they fished the higher water levels and weather conditions better than most to land 40 fish for a overall combined weight of 366.5 Kgs (806lbs 6oz).
New to the competition, it was a case of first time lucky for winners Lisette 43, and Bianca 37, fishing for Team Dynamite who took the lead on the first day and all except for day two, kept their noses in front with some consistent number and weights. Fishing a unique (and still secret) baiting strategy, the pair fished at 180 meters in 8 metres (25 ft) of water, in the Solar Tackle section in the south west of the of the 43 kilometre shoreline.
Using 12 ft, 3.25 lb. TC Shimano XS1 rods, 12Kg (2l5b) Power Pro braid on Shimano Technetium 12000 XTB reels, the pair fished a selection of hookbaits after baiting up with a concoction of particles, chopped boilies, pellets and groundbait. Consistency was the key to their success with fish coming regularly to their rods, finishing in first place on day one, second on day two, but regaining the lead on day three, which they never relinquished. The pair were confident going into the last day that their lead was enough, but stiff opposition and a 'never say die' competitive spirit of the other teams in the frame meant they could never relax until the final hooter.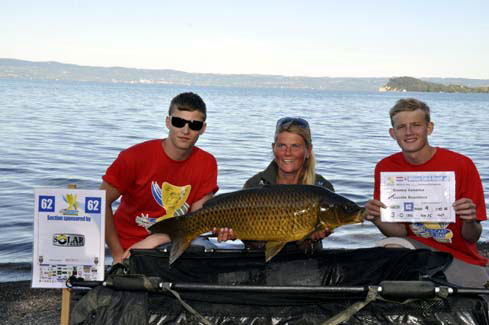 Winners Lizette and Bianca commented:
"We always knew we were in with a chance as fish come out all over the lake, but when we drew our peg in Solar Tackle section we were happy. Research is always vital, and we had a good idea of what was needed. We've never been here in the past, but we're competitive people, we may not have had experience of the tournament, but the way its run, the weather and the venue have all helped. We're delighted to be the first women's team to lift the trophy and would like to thank our team sponsors Dynamite, Ace and Shimano for all their help in taking the title."
This year's event is the first that Dynamite, Europe's biggest bait company has signed as the Title Sponsor, and their Export Sales & Marketing Manager, Daryl Hodges was on hand to explain the move:
"The World Carp Classic and Bolsena has the best the sport can offer: big fish, great people and beautiful surroundings, we knew that our brand complemented those factors perfectly. We are a global brand and wanted to be part of something world class that has a global audience reach. Lizette and Bianca have a fantastic record in carp fishing, Lizette being the women's world carp record holder with a fish of 8l4b 5oz, whilst Bianca has recently landed her PB common of 54b plus, they're our kind of anglers! We see our sponsorship as a perfect fit to our original principles, based on our love and passion for carp fishing, enthusiastic anglers and quality ingredients. Talking to anglers competing here, listening to what they want is what makes our job not only all the more interesting and challenging, but also fun. The carp scene is Dynamite's number one priority which is why we chose to work with Ross and his team and support this great event."
Ross Honey, founder of the event comments:
"This is a fantastic result to mark our 15th Anniversary, the conditions were changeable and Lizette and Bianca worked with them to pull off a fantastic win. Once again Lake Bolsena has produced a massive haul of fish with 275 of its sensational carp, weighing in at over 2,963 Kgs (6,518 lbs) of fish taken.
"There has been a huge amount of work that has gone into making the World Carp Classic what it is today, an event like this is down to a dedicated team who put in many hours of work. Along with the management team, volunteers, bailiffs and the townsfolk of Bolsena and the surrounding towns and villages, we also have to thank all of our principle, section and support sponsors, who make this event possible. We are proud to be celebrating our 15th Anniversary with our new principal sponsors Dynamite Baits at Lake Bolsena is such a beautiful setting in early October, a superb time of year to experience the Italian countryside, its hospitality and the not to be forgotten incredible fishing too.
We look forward to seeing all of our competitors, sponsors and audience again at next year's bigger and better event."