EVENT: DYNAMITE BAITS MAKINS Thursday 'Kobra Affordable Open'
VENUE: DERWENT ,Phase 3, Dynamite Baits Makins
DATE: 21 May 2009
RESULT
1st Danny ROSS Wykin AC 48 lb 12 oz
2nd Terry BRINDLEY Force Baits 38 lb 6 oz
3rd Gaz WOOD Browning Central 36 lb 12 oz
4th John Adamson Kobra Feeders 31 lb 12 oz
5th Eddie Keene Coventry 22 lb 8 oz
Number of pegs: 20
Report:
The Thursday Kobra Affordable Open was fished on Derwent on Phase 3 of Dynamite Baits Makins Fishery in torrential rain and a strong wind. In spite of the weather, carp were caught all round the lake.
Thursday 'expert', local angler Danny Ross (Wykin AC) clocked up his 6th Thursday win on the year with another excellent display. Fishing paste and pellet presented close to the island at 8m on peg 18, Danny's net of carp weighing between 1½ and 4 lb, bream and a golden tench, all caught after a bite-less first 2 hours, totalled 48 lb 12 oz to give him a clear win. (Photograph of Danny with part of his catch attached)
Another local angler, Force Baits backed Terry Brindley landed a better quality of fish for his 38 lb 6 oz second place from peg 26, edging out Browning Central's Gaz Wood who landed 36 lb 12 oz from peg 29.
The Thursday match on 27 May will be on Phase 2, Snake and Crater, with the match on 4 June to be fished on Thames and Inner Avon (Phase 3).
NB. 'Kobra Affordable' Opens are at Dynamite Baits Makins each Thursday on Phase 2 or 3 (except for the 2nd Thursday each month). Telephone 07749 284 823, or be in the Car Park by 9.45 a.m. (£15 all in at the draw).
EVENT: DYNAMITE BAITS MAKINS Wednesday 'KOBRA' Affordable
VENUE: Lake 2, DYNAMITE BAITS MAKINS
DATE: 20 May 2009
RESULT
1st Andy FINDLAY Korum 141 lb 4 oz
2nd Rob HENRICK Long Eaton Victoria AS 133 lb
3rd Terry PHILLIPS Wykin AC 131 lb 8 oz
4th Dean HUGHES Higham Lane Fishery 69 lb
5th Andrew WILLIAMS Long Eaton Victoria AS 66 lb
Number of pegs: 24
Report:
Lake 2 at Dynamite Baits Makins in the Kobra Wednesday Affordable Open saw yet another great display of feeder fishing from Korum ace and popular venue expert Andy Findlay.
Drawn on peg B13 at the downwind end of the lake, Andy fished method feeder to the island to land carp to 12 lb 8 oz for his winning total of 141 lb 4 oz for his sixth Wednesday win on the venue this year.
On the 'A' bank, Rob Henrick (long Eaton Victoria AS) on peg A4, and local Wykin AC angler Terry Phillips (A8) both caught steadily throughout the match.
Rob started catching on the pellet waggler but switched to straight lead and pellet bait at the halfway point to keep fish coming to end with 20 carp for 133 lb. In contrast, Terry started on the method feeder but also switched to straight lead, and his 26 fish catch weighed 131 lb 8 oz.
Photographs of second (Rob Henrick) and third (Terry Phillips). Sorry, no photo of the winner as battery in camera ran out!
NB. 'Kobra Affordable' Opens are at Dynamite Makins each Wednesday on Phase 1. Telephone 07749 284 823, or be in the Car Park by 9.45 a.m. (£15 all in at the draw).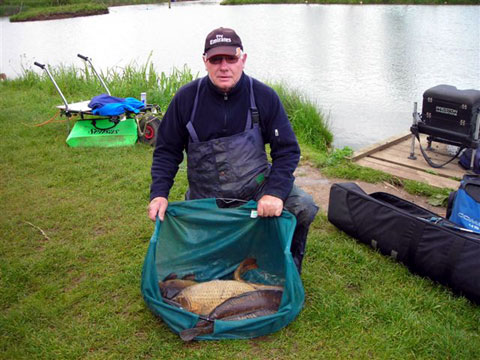 Terry Philips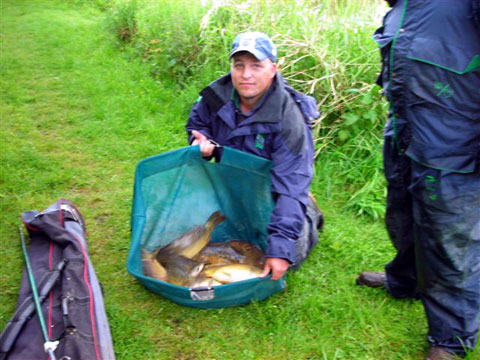 Danny Ross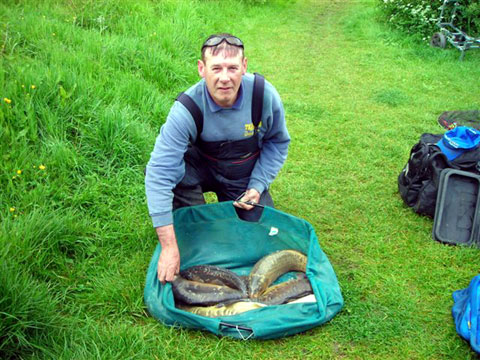 Rob Henrick