Ant Glascoe
Hey guys…. it's been a hectic summer from trout water pike, to river zander to tackling wrecks and reefs off the Welsh coast. Predators! I just love em!
September has to be one of my all-time best months to target one of my favourite sea species, the bass.
Last year we had a great time with the bass fishing, we had over 45 bass all taken on lures, the Savagear prey 115 putting it through its paces British style.
At first we thought it was just a fluke, and just took the day to be a lucky lure fishing day.  One year on and fishing the same area we did it again, only this time 35 bass to 8lb, and again all on the Savagear prey 115 lures, in all patterns, including the bright lemon back.
It's also down to my dad, 45 years of skippering the area, watercraft again also plays an important part, looking for features, watching for bass smashing prey, and most importantly getting the tides right.
After a hectic few days hammering lures for the bass, unusual high tides showed around the area known as the equinox, so my dad decided it was a perfect safe opportunity to put our Cannibals to test targeting the pollack on a reef called The Fangs.
This particular reef has taken so many lives over the years from major ship wrecks to small fishing boats, so timing is very vital. Trust me it's not for the fait hearted. I  nearly lost my life here a few years back, lobster fishing.
Being of Norwegian/Scottish decent our boat has to be 'The Orkney', a properly-built angling boat, which has been around for many years, and perfect for coastal work such as short range work on wrecks and reefs.
We headed out five mile to the reef – yes it's a good steam, but when you hit it right this reef is well worth it.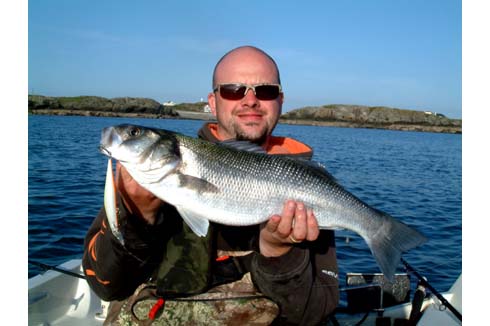 Ant with one of his fine bass taken on a 115 lure before he headed to the Fangs Reef for some brilliant pollack sport.
The reef has a wreck on it called The Editor, which sank in 1890. She struck the reef in a severe snow storm, and still to this day old chains and huge boilers litter the reef as well as jagged rocks.
As we approached the reef my dad said that it looked perfect and he thoughts that we had timed it just right. "One of us is a going to have a whopper today," he predicted.
On our first drift I hooked up a 10cm Cannibal on a blade jig head and lowered it down to the eerie, dark depths.
Vertical fishing like this can be very tricky as the loss of gear can be high. The low diameter braid was perfect to cut through the 40 feet depth and to feel every bump and jagged piece of ironwork down there.
On my first drop, something slammed me, and suddenly brought my rod to a standstill. Fishing light 16lb flurocarbon leaders, I had to take it easy.
After a gruelling battle it finally surfaced, and the net was slipped under her, a fine specimen Pollack.
On our second drop my dad hit into a good fish which took him all over the place, and again another pollack to double figure came aboard. This was crazy already. It's not always like this, trust me. Getting the tide just right is very important, and most of the time this particular reef is unfishable, and only crazy, but knowledgeable anglers dare to fish such a feature.
We were what I call 'vertical fishing', just like zander fishing in deep water. The method is not seen much with the UK anglers, but what a killer method!
Throughout our drifts we had five Pollack to 14lb, with the odd octopus for a bonus that would just hammer the Cannibal. Great fun!
After a few hours' pollack fishing, it suddenly went dead, then all of a sudden a huge bull seal popped up and tried to board our small Orkney. I had to change my underpants that night!!
I had a great time with my dad. What a skipper, and no I am not just saying that because he's my dad. He can catch fish in the toilet, with over 45 years of boat angling fresh water and on the sea, he rely is a old sea dog. Cheers dad!
Ant's Gear For The Trip
MP PRO PREDATOR, 9FT 20/60g matched up with an Okuma Salina SA30 loaded with Savagear Adrenaline Titan Grey 14lb
XLNT Spectrum in 16lb, both for the bass and Pollack, very light gear, but great fun
Prey 115 lures, green silver and lemon back being most effective for the bass
10 and 12.5 cm Cannibal lures in blue shiner and minnow for the pollack
Ant Glascoe