60 Anglers returned to Monks Lakes in Kent today (9th September) for the 3rd qualifier of "Fish to Win" 2009, and after the previous weeks bad weather conditions everyone was in buoyant mood and hoping to be drawn on Match Lake 2.
However it was the last person to be weighed in on peg 44 on Lake 1 which came up with the spoils and snapping victory from the jaws of Robbie Taylor by a narrow margin of just over 4lbs as former England International Dave Vincent (Browning – Hotrods) came up trumps winning the match and qualifying for the final with 136lb 2oz of mainly carp and barbel caught on maggot fished over pellet.
Going one place better than last week was 22 year old Robbie Taylor (Preston Innovations – Delcac) from peg 45 on Match Lake 2 with 131lb 12oz all caught in close on caster who also qualifies for the final.
In 3rd place on peg 68 with 112lb 8oz was last weeks winner Dave Sandford (Map – Medway Tackle) just beating Russ Berryman (Surrey Starlets) by 4oz who finished 4th with 112lb 4oz who also picked up his 2nd section win of the tournament.
In 5th place on peg 48 was Graham Dack (Middy) with 110lb 4oz followed by Ben Emery (Unattached) with 102lb from peg 67 in 6th Place
The competition now moves to Essex for round 4 on Wednesday 16th September at Newland Hall in Chelmsford where the biggest weights of the competition are expected.
For more information and ticket availabilty visit http://www.fish-to-win.co.uk or call John Bell on 07724 841722 or 0208 599 2285
The full Match Results are as follows:
Monks Match Results

9th September 2009

1
Dave Vincent
136lb 2oz

2
Robbie Taylor
131lb 12oz

3
Dave Sandford
112lb 8oz

4
Russ Berryman
112lb 4oz

5
Graham Dack
110lb 4oz

6
Ben Emery
102lb

7
Steve Copping
100lb 9oz

8
Geoff Vallence
97lb 2oz

9
John Whitlock
85lb

10
Gary Thomas
84lb 12oz

11
Alec Roberts
76lb 14oz

12
Steve Sanders
74lb 6oz

13
Paul Lamb
73lb 6oz

14
Mick Hood
72lb 4oz

15
Chris Nicholls
71lb 4oz

16
Matt Parsons
69lb

17
Phil Waddington
67lb 12oz

18
Andy Power
66lb 8oz

18
Mark Tullet
66lb 8oz

20
John Taylor
62lb 2oz

21
Steve Davis
62lb

22
Mark Brennan
58lb 12oz

23
Jim McDowell
57lb 6oz

24
Mark Hathway
56lb 4oz

25
Ian Farmer
54lb 8oz

26
Jeff Davis
51lb 4oz

27
John Bell
45lb 8oz

28
Mark Glynn
44lb

29
Mark Harrington
42lb

30
Ian Covey
39lb

31
Mark Sandford
38lb 14oz

32
Nick Gilbert
38lb 8oz

33
Matt Love
38lb

33
Mick Brown
38lb

35
John Pantry
37lb 8oz

36
Tony Lock
37lb 2oz

37
Chris Poile
37lb

38
Graham Cook
32lb 11oz

Barry Upperton
DNW

Billy Lowe
DNW

Bruce Welfare
DNW

Chris Jones
DNW

Darren Law
DNW

Glen Butler
DNW

John Coster
DNW

Jonathan Watt
DNW

Jonnie Cousins
DNW

Kevin Hyham
DNW

Mark Nevins
DNW

Mike Bell
DNW

Nigel Mills
DNW

Paul Law
DNW

Paul Taylor
DNW

Phil Starkey
DNW

Richard Hall
DNW

Russ Evans
DNW

Shaun Keep
DNW

Steve Fisher
DNW

Stuart Atkinson
DNW

Tony Methven
DNW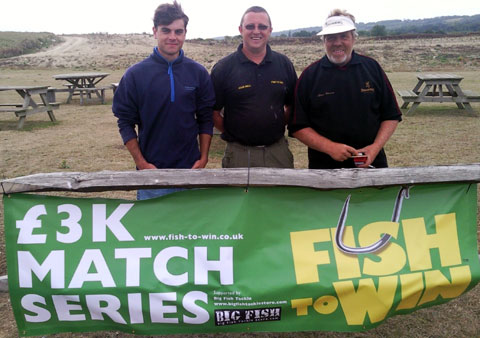 Click on www.total-fishingclub.com – the UK's No1 online match fishing club – to win a trip to the world match fishing championships, and save money off tackle