England's Rob Tough and Tom Duncan-Dunlop are on top of the world after overcoming an international field to win the 2009 World Carp Classic.
Rob, 45, and Tom, 36, produced a stunning all-round effort to beat off competition from 126 pairs from 21 different countries to claim the £10,000 first prize from the £70,000 prizetable at the six-day event at Lac de Madine in north-east France.
Surviving on just twelve hours' sleep throughout the marathon non-stop competition, the duo bagged an event-record 26 fish weighing a total of 347.5kg to easily beat their closest rivals, headed by Dutch pair Koos Walters and Bert Teuben (eight fish, 125.65kg) and Robert Ceaus and M Gulke of Germany (eight fish, 123.45kg).
And Rob and Tom completed a clean sweep of the major prizes as they also helped England's Team Mainline Carpworld clinch the best team prize for the third year in a row.
Rob, an accountant from Dartford, Kent, who has been fishing since he was 16, said: "This is the highlight of my angling career and I think I can speak for Tom in saying this is the best week we've ever had in terms of the magnitude of the event.
"The number of fish we caught and the size of them was staggering. We've been inundated with messages of congratulations since we got back, it's a great feeling to have won and it's one we'd love to repeat next year.
"These are the events you live for as anglers. We were totally exhausted at the end and were surviving on adrenaline alone but we wouldn't have swapped the sleepless nights and the moments when the fish are taking the bait for anything. You can sleep for the rest of your life, after all."
Rob and Tom came fifth in the event in 2007 when they landed one of only five carp to be caught that year but failed to catch a single fish when they took part last year.
But the pair, who have been fishing together for the last seven years, and who met as anglers on a Surrey club Lake in the early 1990s realised they might be in for a change of fortune when they drew out the peg next to the one that produced the winners in 2008.
With good placement of their four rods, making the most of the stormy weather conditions and surviving on minimal sleep, Rob and Tom, a heating engineer from Sutton, Surrey, amassed a haul of 22 carp by the fifth day – including three fish weighing more than 40lb – to establish a comfortable lead.
But the duo were determined to keep going and catch as many fish as possible in the final 24 hours – despite Rob suffering a series of deep cuts on his legs caused by thorn bushes in their area of the lake that eventually became infected.
Rob added: "I had lacerations on my legs and the wounds opened up when I was forced to put my waders on to land the fish but it's a hazard of fishing. The adrenaline gets you through it and Tom was doing as much as he could to help.
"A combination of factors came together that helped us to win. Unlike in previous years, we had very stormy weather almost from the off, producing a band of low pressure which switched the fish into feeding mood. We were lucky enough to draw a peg in an excellent area and, to top it off, we also had a pair next to us that probably could have competed more than they did had they the ability or the inclination to do so.
"But we put in a huge amount of hard work in the run-up to the event, including a scout of the accessible bank space to be pegged (the draw was a stick or twist on the first peg drawn), we gambled on our first draw and are just delighted it paid off.
"We echo sounded the best areas in the swim to place our rods and had soaked our bait (mainline active-8) in 'maple 8 bait dip' a week in advance to harden it enough in order to keep the crayfish at bay.
"We may have been next to last year's winning peg in a swim that drew a blank last year for a German pair but, by fishing it right, we managed to convert 26 of our 28 chances while the French pair next door landed five carp.
In a year of records, Team Mainline Carpworld's Kevin Hewitt and Mark Bartlett and Tim Paisley and Lee Jackson helped Rob and Tom claim the best team award with a combined haul of 27 fish weighing 366.2 kg.
German Axel Wacker set a new event record for the biggest carp caught when he landed a 28.9kg whopper to smash the previous 26.1kg best of England's Jason Cann set earlier in the week, a staggering 2020kg of fish were bagged in total by the competitors over the six days while the World Carp Classic website recorded more than FIVE MILLION page views during the month of August up to the Monday morning after the event from competitors and friends.
Tim Paisley, twice a world champion and captain of Team Mainline Carpworld, said: "It's absolutely incredible to win three team titles in a row. It's an extraordinary achievement.
"Mark and Kevin won it for us last year and Rob and Tom produced a brilliant performance this time around. They did their homework beforehand and were good enough to take advantage of the conditions.
"We have three seasoned pairs who have big water records and to win again is amazing because there were some crack European teams competing this year and we thought we might be up against it."
Competitors from across the globe including South Africa, America, Greece, Turkey, Czech Republic, Poland and Latvia flew in to France to compete for the £70,000 total prize fund in the 11th running of the World Carp Classic at the 1,000-hectare lake.
Japan's Norio Shishido and Syuhei Someya celebrated their country's debut appearance at the event by catching their first fish followed by 3 more to finish as the title sponsors JRC best team. The event is set to attract an even bigger worldwide entry when it returns to north-east France and Lac de Madine in 2010.
Ross Honey, the event founder, added: "This has been an amazing year with fantastic results. There were more than 600 anglers that could not get places in the competition this year and we are looking at ways on how to deal with the massive demand for 2010. This year has completely rewritten the record books."
For more details on the World Carp Classic and for a full list of results, go to www.worldcarpclassic.com
Tom Duncan-Dunlop and Rob Tough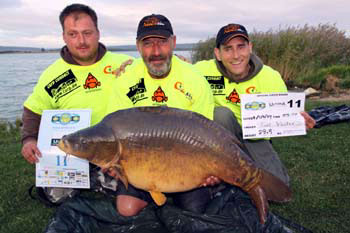 Alex Wacker
Frank Warwick and Jason Cann

Click on www.total-fishingclub.com – the UK's No1 online match fishing club – to win a trip to the world match fishing championships, and save money off tackle