Fishing The River Leam by Keith Jobling
The river Leam springs near Hellidon in Northamptonshire and flows West through the villages of Marton and Offchurch before it confluences with the Warwickshire Avon in Royal Leamington Spa.
For the majority of its length the Leam is a small river, indeed barely a stream in its upper reaches. It's not until it gets to Leamington town centre that it takes on the appearance of a substantial waterway as it is held back by two weirs built in the 19th century to enhance the appearance of the town centre.
The river passes predominantly through agricultural land without any dramatic obstacles in its path. As a result the river is generally slow, deep and carries colour.
From a fishing perspective the Leam can be divided into three main areas: the streamy Offchurch stretches East of Leamington, the Newbold Comyn section where the river moves into the town and the wides of the Leamington town parks. As you might expect Leamington Angling Association controls the majority of fishable water on the Leam.
The narrow stretches at Offchurch offer some deep holes and a few faster glides. Recent Environment Agency surveys have shown there are strong populations of roach, chub and quality dace here. Chub to over five pounds perch over two pounds and eels over three pounds have all been recorded recently. Even the occasional carp puts in an appearance. Travelling light and covering the water using bread and meat works well up here for the chub. Once you've landed one it's a good idea to move on though.
As the river winds its way towards Leamington, it flows into the Newbold Comyn Nature Reserve. The grand union canal spills into the river here and that can increase the flow and add further colour when the boats are moving during the summer holiday months.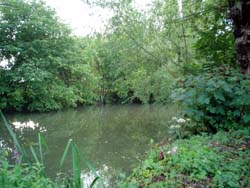 There's many a 'jungle swim' like this on the Leam.
Link ledger or mini feeder works well. Winter fishing produces the quality roach nudging the magic two pound mark for which the Leam is well known by specialist anglers. Roach and perch dominate this area, but bream shoals also occupy the deeper wider sections. Chub are fewer but there are some really large specimens. Pike and zander are more numerous, up to low double figures. Rudd have appeared here in recent years and Welches Meadow has a growing population of common and mirror carp and some hard fighting tench.
Moving into the parks in the town, Leamington Angling Association has the fishing rights through the Mill Gardens, York Walk and Victoria Park, all of which are under fished but have lots of quality roach that show during the winter. Again, Environment Agency surveys reveal shoals of bream to over six pounds that are hardly ever fished for. They can be hard to find but equally rewarding if you can locate them. Bread punch has accounted for some superb roach/bream bags, especially when the river is fining down after a flood.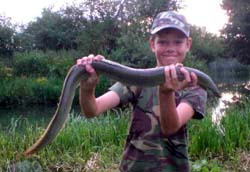 For a small river, you can see that there are some big fish to go at like this cracking eel.
The weir at Princes Drive is a favourite spot for a decent chub, and like all chub they just love a big piece of bread flake. Sending it down under a stick float along the far wall often scores. The "jungle" swims downstream of the weir can produce an amazing variety of species, some of which reach specimen size for such a small river. Roach, rudd, bream, chub, perch, zander, bleak, minnow, eel, and big pike are all resident here.
Make no mistake the Leam is no midland chalk stream, but beneath its sedate surface lies a challenge for any coarse fisherman. Yes, you can catch roach, perch, bream pike and chub pretty well anywhere along it's length, but to connect with the quality fish will take some craft.
About Keith Jobling.
Coventry based general specimen angler Keith Jobling enjoys the wide variety of coarse fishing in his local area. He has to fit his fishing in amongst a regular job and family life but writes up his exploits on his blog warksavon.blogspot.comA.