Fly-fishing under the midnight sun – Lapland, Finland
This is an opportunity for a unique fly–fishing experience. The Land of the Midnight Sun sounds totally magical and unbelievable – and indeed it is.
Found only in Polar regions, the sun remains visible above the horizon at midnight.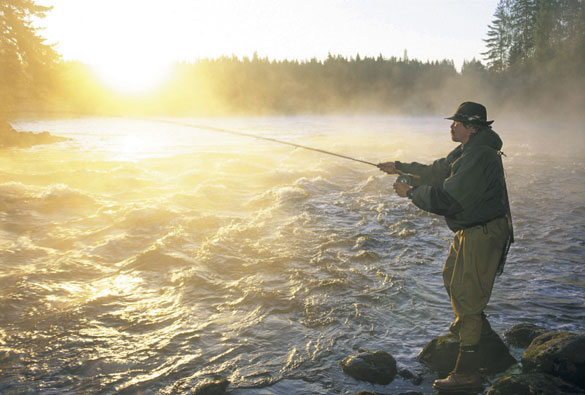 In Lapland, the further north one locates, the longer the midnight sun may be experienced. One feels full of energy and with the sun above the horizon one's body simply does not feel the need for sleep.
The Fishing
Lapland, Finland offers an excellent fishing experience – the country is know for the high quality services it provides and the exceptionally clean fishing environment and rivers.
The grayling is the most numerous game fish in most of the locations, but other species such as brown trout and whitefish (powan, Coreganus spp) are also present.
Lapland has further advantages for a great fishing experience, including the right of common access to nature, great wilderness spirit and an excellent infrastructure close to fishing sites.
In all of our chosen locations, it is common to have shelters and campfire sites nearby to the fishing grounds.
Guides At Your Service
With our fishing experience we have one guide to five fishermen for eight hours a day, and fishing is available 24 hours a day.
Therefore, in discussion with the other participants you can choose the hours you have his or her assistance for. The guidance can indeed be, for example, between 10pm and 6am, should you wish – allowing you the full opportunity to enjoy fishing under the midnight sun!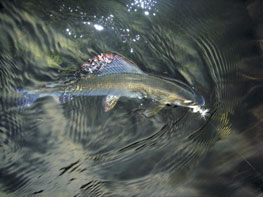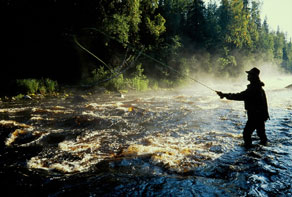 All Inclusive
For your comfort and ease, all services are included in the holiday arrangements; flights, all transfers, accommodation, full board, fishing licence and services of a professional fishing instructor.
All accommodation is arranged either in double rooms or comfortable cabins with shared facilities, these usually also have a sauna, allowing you to try this truly delightful Finnish experience!
Getting There
Lapland is accessible from the UK with a direct flight to Rovaniemi – allowing guests immediate, day – one access to the fishing sites.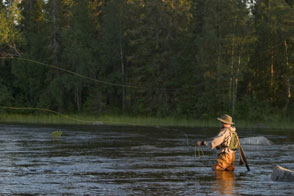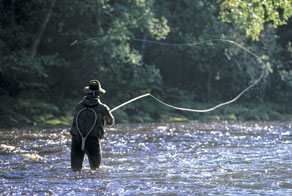 Choose Your Level
In Lapland we have, with the advice of leading fly–fishing experts, chosen several fishing sites with different characters and levels of difficulty.
Some of the rivers offer more of a challenging experience, as conditions can be quite different from those of the rivers in the UK.
Notable differences include the width of rivers, the river flow and the size of the rapids.
In other areas, the conditions are similar to those found in the UK – but which ever area you choose – you are guaranteed to have a unique and outstanding fly – fishing experience with the guidance of our expert instructors!   
More Information
For more information on these amazing fly-fishing holidays including itineries, accomodation and insurance, or to order a brochure or make a booking, call 01923 822388, Email info@canterbury-travel.com or visit www.fishing-finland.co.uk
To request a free brochure CLICK HERE

---