Fox International has made a recent donation totalling £2,854.06 to the Royal National Lifeboat Institution (RNLI) in memory of former director, Keith Selleck, who tragically died in a boating accident over 15 years ago.
Keith, a well-known carp angler at the time, was taking part in a working party at legendary carp water Savay when the boat he was in capsized. Keith tragically drowned.
In memory of Keith and in a bid to educate anglers about the importance of wearing a life jacket, Fox International launched the K.S. Lifejacket of which ALL profits would be given to the RNLI. Since then Fox International has made regular payments, with this most recent taking the total figure donated since 2002 to just over £10,000!
Cliff Fox, founder and chairman of Fox International, said: "Keith was a close friend and very important figure in the growth of Fox International. Losing him was a great lose to angling as a whole.
"But, his death was preventable and had he been wearing a life jacket he may well have survived. This is why we decided to launch a fishing specific life jacket. But we felt it was important that Fox International kept the price low to encourage as many anglers as possible to use one, and that all profit would go to a charitable organisation dedicated to helping anyone involved in water activities."
Commenting on the donation, Stella Dubbin, senior fundraising manager (Eastern region) of the RNLI, had this to say: "We are all touched that Fox International takes the topic of water safety so serious, and has invested in a lifejacket that's perfect for angling in general. We are extremely grateful that Fox has decided to donate all profits from the sales of the K.S. Lifejackets to the RNLI.
The Fox K.S. Lifejacket has a five second trigger which provides automatic inflation on contact with water and has a red internal material for visibility when inflated. It's rated to 150 newton and designed to self-right an unconscious person. It is unobtrusive when being worn, ensuring that anglers that still fish as normal. It can be purchased from leading Fox stockists, or direct from www.foxint.com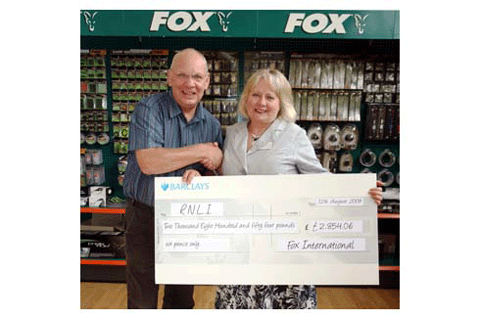 Fox International's technical director, Andy Little, presents the cheque to Stella Dubbin of the RNLI.