It was a great blow to both the National Association of Fisheries and Angling Consultatives and angling and fisheries administration in general when Terry Mansbridge, the Executive Chairman of NAFAC died suddenly in Spring 2006.
It is a tribute to the his legacy that the organisation he helped to create, and the quest for angling unity which he championed, have both moved so far in the past two years.
NAFAC was determined that his passing should not go unrecorded have set up a very special award, designed to celebrate the memory of its past Chairman, which will be presented to persons who have made significant contribution to angling and conservation.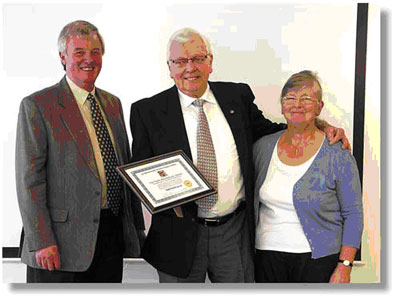 NAFAC Executive Chairman, Martin Read, looks on as Fred French MBE receives the Terry Mansbridge Award from Christine Mansbridge
And it was fitting that the Terry Mansbridge Award for 2008, was made to his life-long friend and fishing companion, Fred French MBE FIFM, for his work and efforts on behalf of angling and conservation.
The award was made by Christine Mansbridge, who travelled to the fittingly impressive Hampton Court Palace specially to make this presentation.
Fred was visibly moved by the award and for once at a loss for words.