Like many anglers Fred Meilak has suffered numerous cuts and burns from using his thumb to control the spool when casting – but he's come up with a 'reely' good idea to prevent this.
Fred has, with the help and support of the Wales Innovators Network (WIN) which is funded and run by the Welsh Assembly Government, come up with the Multiplier Fishing Reel Spool Controller.
His invention is ingenious in its simplicity. The device made from a plastic and nylon compound snaps onto the butt of the rod and a lever that protrudes over the spool is pressed by the thumb and acts as the brake.
"The device not only protects the thumb,but also provides anglers with a better grip," said Fred who is an avid sea fisherman (pictured below with his invention).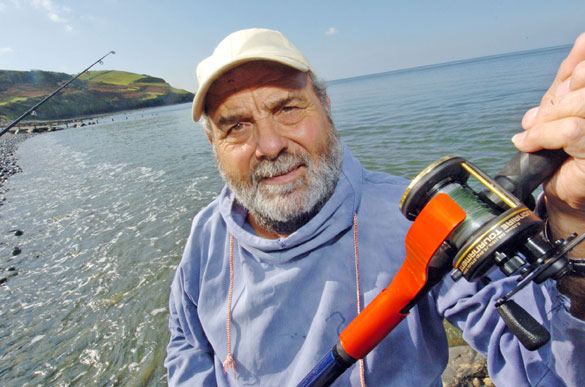 He is heading to London later this month to join hundreds of other inventors from around the world to promote his simple but effective thumb guard at the British Invention Show.
He will be exhibiting on the WIN stand and hopes his invention will catch the eye of potential manufacturers and is looking for licensing, marketing and distribution opportunities.
Sixty two year old Fred, who lives in New Quay, explained that thumb injuries tend to be an occupational hazard when using a multiplier reel.
"The multiplier reel is a free spinner- so when you cast, the spool starts spinning and the line plays out – but once the lead hits the water you have to stop the spool.The only effective way to do this is to press down on the spool with your thumb.
"The cast can be quite fierce and the spool spins incredibly fast which can cause a nasty burn if you use your thumb as a brake. There's nothing on the market to protect your thumb despite the fact that millions of people fish and suffer from these injuries regularly."
His device has been patented with a funding contribution being provided by WIN to support the initial costs, Fred hopes to catch the interest of fellow anglers.
Ieuan Wyn Jones, Minister for the Economy and Transport, said the Wales Innovators Network is a unique initiative providing professional advice and support for individuals across Wales to help them develop their concepts into commercial products.
"Innovation is the lifeblood of a healthy economy and WIN plays an important role in actively encouraging and promoting inventors, innovators and entrepreneurs.
"Over the past year 350 individuals have been helped with the development of their ideas and Wales has done exceptionally well over the past few years winning a raft of top awards at the key exhibitions in Europe."
Notes:
• The British Invention Show takes place at Alexandra Palace in London from 17th- 20th October 2007. 250 inventors and their inventions from around the globe are set to battle it out at the World Invention Awards & Exhibition in London
• The three-and-a-half-day show, now in its seventh year, is run in association with the British Inventors Society and enjoys support from government partners including the UK Patent Office and UK Trade & Investment.
• A panel of 18 judges from the British Inventor's Society will put ecological and social benefits to mankind, as well as design, ingenuity and originality to the test, culminating in the presentation of the coveted British Invention, Innovation and Design of the Year Awards. The Inventor of the Year will be announced during the dinner awards at 10pm on Friday 20th October. For a list of judges and categories please see FAQ's on homepage.
• The all Wales Innovators Network was established just over five years ago and is funded by the Assembly. The overall aim is to encourage and support innovation individuals in Wales and help turn good ideas into commercial propositions
• It has over 1000 members, and registration forms have been sent out to an additional 490 people.
• Over the past year 350 individuals have been helped with the development of their ideas
• Four Innovation Technology Counsellors work fulltime for the network but the expertise of a further 16 ITCs is available