THERE'S no doubt that long rods offer unrivalled control in certain situations, but do you know which one you should be using and when?  Match Fishing check out 10 of the best around.

Long rods are perfect for improving float control when you're fishing rivers, but some are now made with the commercial carp water scene in mind, so which one should you choose for the task?
A good long rod is obviously well balanced and many nowadays feel just as good to fish with as a traditional 13ft or 14ft waggler rod. The increased control they offer, especially on moving water, can't be rivalled when you're running a stick 20 or 30 yards downstream and the line pick up is 10 times better than a 13ft rod.
Long rods are also the perfect tool for targeting big, big fish at close quarters as they offer superb fish control and you can actually use a reel and follow them as far as you need, whereas if you fish for those big fish on the pole, you're more limited when they charge off. See what Match Fishing made of some of the top long rods around…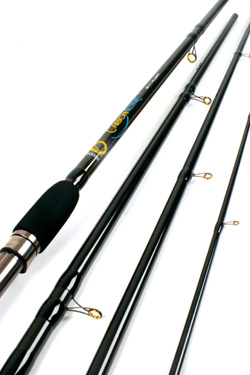 Preston Innovations Carbon Active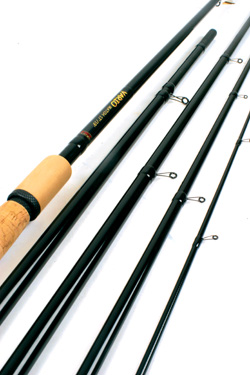 Fox Vario
Preston Innovations Carbon Active
Length: 15ft/17ft
Weight: 230g at 17ft
No. of guides: 20 at 17ft and 18 at 15ft
Action: Progressive power
Handle: Duplon/cork
Sections: 4 at 17ft
RRP: £225
Contact: Preston on 01952 290520
Verdict
This rod feels exceptionally well-balanced at 15ft and seems to be the perfect tool for targeting commercial water carp at short range. At this length you could also use it for heavier river work if you're targeting chub or fishing for bigger fish in deep water where you're using big sticks or bolognese floats. At 17ft you've got another two feet in length, which gives you that little bit extra and is perfect for targeting doubles at close quarters. A top-quality big fish tool.
Fox Vario
Length: 15ft/17ft/19ft
Weight: 293g at 19ft
No. of guides: 22 at 19ft and 21 at 17ft
Action: Tip and middle action
Handle: Cork
Sections: 5 at 19ft
RRP: £199.99
Contact: Fox on 0208 5010 921
Verdict
This rod feels quite top-heavy at 19ft, but at this length you're not likely to be holding it for long periods of time. It seems great for light line river work where you're going to be running a stick quite a way downstream when you'll need that extra length to pick the line up. Although it's quite sensitive, you could get away with using it for carp on commercials and that extra length will prove essential on some waters. The handle and reel seat are top drawer and it's finished in ultra-smart minimalist graphics adding to that true quality feel.
---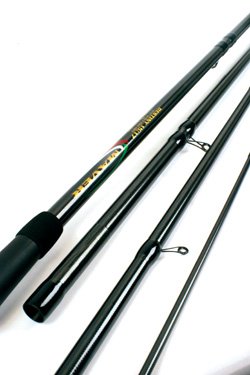 Maver Destiny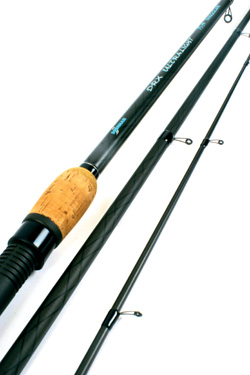 Drennan Ultralight 15ft Waggler
Maver Destiny
Length: 15ft/17ft
Weight: 279g at 17ft
No. of guides: 15 at 15ft and 17 at 17ft
Action: Tip to middle
Handle: Cork/Duplon
Sections: 4 at 17ft
RRP: £132
Contact: Maver on 01527 406300
Verdict
Out of all the rods on test here this one stood out as being right for the job. Maver has ignored all the fancy extra trimmings and produced a rod that feels and works like a dream. The blank is absolutely perfect for river work, but there's enough backbone to cope with larger fish like chub or barbel on moving water. It feels well-balanced at both lengths, but obviously excels at the shorter 15ft. The handle and reel seat could be a bit more appealing to the eye, but they perform the task in hand admirably. This is a tool that's designed to perform.
Drennan Ultralight 15ft Waggler
Length: 15ft
Weight: 193g @ 15ft
No. of guides: 18 @ 15ft
Action: Light
Handle: Cork
Sections: 3 @ 17ft
RRP: £189
Contact: Drennan on 01865 747299
Verdict
Because this rod's only designed to be used at one length, Drennan have been able to design the action to suit this exactly rather than trying to make the rod work at two different lengths. We far prefer one-length rods because of this reason and this model backed our feelings further. This rod feels awesome to hold, simply because it's so light and is much better suited to light line river work or light line distance waggler fishing on stillwaters. It doesn't really have the power for carp, but that's the intention, however, it will pick up line at distance thanks to the crisp actioned tip. It features 18 guides and looks the part, too.
---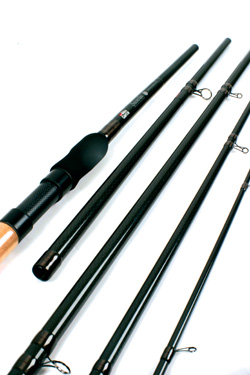 Abu Garcia Suveran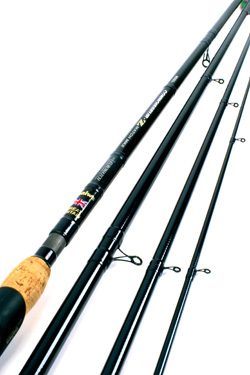 Daiwa Connoisseur Z
Abu Garcia Suveran
Length: 16ft/18ft
Weight: 374g @ 18ft
No. of guides: 16 @ 16ft and 17 @ 18ft
Action: Power
Handle: Duplon/cork
Sections: 5 @ 18ft
RRP: £229.99
Contact: Pure Fishing on 01606 836921
Verdict
If you're looking for a long rod for out and out power fishing take a serious look at this one. Of all the rods here, this is undoubtedly the most powerful and is well suited to carp waggler fishing at range or for targeting big barbel and chub on rivers where you'll need to give them plenty of stick. The rod has stacks of power through the tip and middle and the guides are Abu's SSGS models that are exceptionally lightweight. The handle is very short – perfect for river anglers. The blank is very responsive giving you stacks of 'feel' allowing you to compensate for every lunge the fish makes.
Daiwa Connoisseur Z
Length: 17ft/20ft
Weight: 323g @ 20ft
No. of guides: 20 @ 17ft and 22 @ 20ft
Action: Medium
Handle: Cork
Sections: 5 @ 20ft
RRP: £215
Contact: Daiwa Sports on 01698 355723
Verdict
Of all the rods featured here, this is the one I feel most comfortable using. At 17ft it feels exceptionally well balanced and this is the length we'd most likely use the rod at anyway. It's a joy to use and feels exceptionally well balanced for such a long rod and at the shorter length you could hold it all day without it becoming unwieldy. At 20ft (that's a bloody long rod you know) it still feels the part and although it's slightly heavier and a little less balanced it's still an outstanding rod. Once again it's finished to Daiwa's usual high standards and all the whippings have been hand finished – lovely. It's got a forgiving tip section, but power a bit more power through the lower end to cope with bigger fish and deeper water situations.
---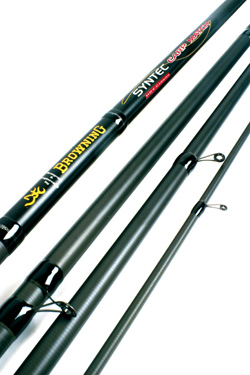 Browning Syntec Carp Match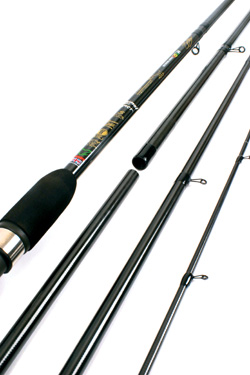 Middy Animal Tamer
Browning Syntec Carp Match
Length: 14ft/16ft
Weight: 277g @ 16ft
No. of guides: 14 @ 14ft and 16 @ 16ft
Action: Power
Handle: Cork/Duplon
Sections: 4 @ 16ft
RRP: £109.99
Contact: Zebco Sports on 01257 224240
Verdict
If you're looking for a power tool then this offering from Browning could fit the bill. We were surprised at how lightweight it is at 16ft and it feels exceptionally well balanced for such a powerful tool. This rod is equally at home taming double figure carp on commercials as well as running big sticks for hard-fighting barbel and chub. Browning could have put more effort into the graphics, but that's only a very small point, it's the action that counts for everything really. This is one of the cheapest rods in the review and it certainly doesn't disappoint. The finish is not to everyone's liking, but we rather like the matt effect. The rod also features a strengthened weave on the joints and a screw lock reel fitting, albeit an uncomfortable one.
Middy Animal Tamer
Length: 15ft/17ft/20ft
Weight: 455g @ 20ft
No. of guides: 18 @ 15ft, 20 @ 17ft and 20 @ 20ft
Action: Power
Handle: Cork/Duplon
Sections: 5 @ 20ft
RRP: £139.99
Contact: Middy on 01773 533533
Verdict
This is undoubtedly the heaviest rod in review, but is one of the most powerful. Middy have designed this rod for out-and-out commercial work in our opinion where you're going to be fishing extra-heavy tackle for real lumps. We would steer clear of using small hooks with this rod and get it out of the holdall on occasions when we're really going to have to give carp some stick. The rod pleases at 15ft, but in our opinion loses it at the longer two lengths. The 2.5ft extension to take the rod from 17.5ft to 20ft doesn't feature any rings. It does feature a tight locking screw reel seat that holds the reel very securely. At full length when you really lean into the rod, flat spots show, which could cause fish loss on lighter gear, but this is a true brute – if you're targeting some serious carp, this is the one.
---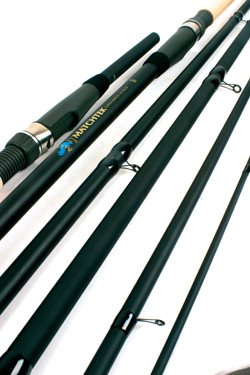 MAP Matchtek Supermatch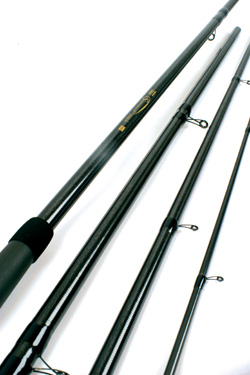 Shakespeare Summit Match
MAP Matchtek Supermatch
Length: 15ft/18ft/20ft
Weight: 342g @ 20ft
No. of guides: 15 @ 15ft, 16 @ 18ft and 18 @ 20ft
Action: Match
Handle: Cork/Duplon
Sections: 5 @ 20ft
RRP: £199
Contact: Leeda on 01527 529030
Verdict
This is a lovely rod to use, simply because it feels so light and well balanced, even at its longest length. At 15ft it can be used for all types of waggler work, but when you put on the extra sections, that's when it becomes a more specialised piece of kit. At 18ft and 20ft it's perfect for big stick work as well as Bolognese styles of fishing. You can use it for commercial waters as well, making it one of the most versatile here. We would use it with lines up to 5lb breaking strain. The fact it comes with two butt sections is a great idea as the action and feel of the rod can be kept true at all three lengths. The hollow tip helps with sensitivity and you can drop as low as a 1lb bottom if the need arises – top kit.
Shakespeare Summit Match
Length: 15ft/17ft
Weight: 243g @ 17ft
No. of guides: 15 @ 15ft, [email protected] 17ft
Action: Medium
Handle: Cork/Hyperlon
Sections: 5 @ 20ft
RRP: £90
Contact: Shakespeare on 01527 510570
Verdict
Considering this rod has a retail value of £90, it's an absolutely outstanding piece of kit. The rod is quite well balanced and pleasingly light to hold. The rod feels just as good at both lengths and it well suited to light line river work, yet has the backbone to cope with bigger chub. The rod features 17 lined rings, that's one for every foot then, and has a secure screw lock reel seat. It's very responsive on the strike and will do even the most discerning river match anglers proud. A great value piece of kit that's a no-nonsense rod designed to perform.

---