Powys based Frenzee are known for a series of innovative pole pots including the Big Daddy, but they also do a range of pole floats aimed firmly at the commercial fishery angler. They are all noted for their sturdy long stems, even the dibber style FD100 which has a strong wire stem that gives stability when fishing bigger baits up in the water.

The FP400 is another classic shallow float which is more suited to caster fishing, although it does go up to a gramme and can be used for meat as well – in fact with the long carbon stem it has something of the old 'pole-stick' design that seems to have disappeared. The FP100 and the FP200 are both sturdy patterns with balsa bodies and a long, strong carbon and plastic tip that are suited to fishing on the deck in deepish water with corn, meat or pellet. The FP200 has a spring tip eye that can't rip out under pressure.
The FP300 is a more sensitive pattern with a long, thin bristle suited to maggot fishing and any shy biting fish, and it comes in sizes up to 2gr so is useful to have in your box in the big sizes when there's a lot of tow or wind on the water. The most unusual pattern in the range is the FP500 – it's very like a float I imported myself from Dino Floats in Hungary for a while – the long, thin body shape is used a lot by roach anglers on the continent.
Like a few of these floats, they are quite big for their weight in my opinion, but this is a self cocker, with a spring tip eye and a very long bristle. The wire stem adds excellent stability and with the long bristle I think they are worth trying as a paste float – I know several anglers who love using self-cocking paste floats – although I can't get on with them myself. It comes in sizes from 0.3gr to 1.5gr.
Geepster
Frenzee FP100 Pole Float
Balsa body, long carbon stem, shortish sturdy plastic bristle. Suited to fishing on the deck with pellets, corn, meat
Sizes: 0.2gr; 0.3gr; 0.5gr; 0.75gr; 1gr
Frenzee FP200 Pole Float
Robust carbon stem, balsa body, spring eye, strong plastic tip, suited to fishing on the deck with meat, corn, pellet.
Sizes: 0.2gr; 0.3gr; 0.5gr; 0.75gr; 1gr
Frenzee FP300 Pole Float
Rugby ball body, thin bristle, long stem. Sensitive float suited to smaller baits and shy biting fish, comes in sizes up to 2gr.
Sizes: 0.25gr; 0.5gr; 0.75gr; 1gr; 1.25gr; 1.5gr; 2gr
Frenzee FP400 Pole Float
Classic shallow caster shape with longer stem than normal and in bigger sizes so can also be used to fish meat shallow, or hard pellet.
Sizes: 0.3gr; 0.5gr; 0.75gr; 1gr
Frenzee FP500 Pole Float
Unusual long thin shape with wire stem which includes spring eye and long bristle – self cocking and could be used for paste work.
Sizes: 0.3gr; 0.5gr; 0.7gr; 1gr; 1.5gr
Frenzee FD100 Pole Floats
Classic dibber style with strong wire stem making them very stable and suited to fishing larger baits like meat or hard pellet shallow.
Sizes: 0.25gr; 0.4gr; 0.5gr; 0.75gr
Contact Information
Email: www.frenzee.co.uk/contact.php
Website: www.frenzee.co.uk
Tackle Shops: www.total-fishing.com/tacklereviews.aspx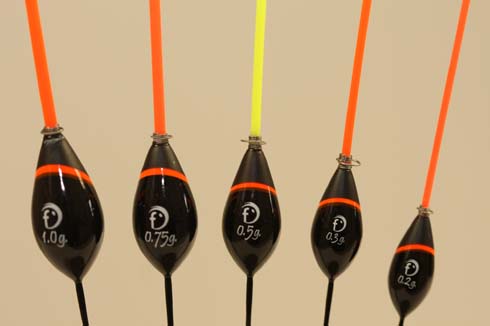 Sturdy long stems are a feature of the Frenzee pole float range. This is the FP200 – a float suited to fishing corn, meat or pellet on the deck – it has a spring eye which will not pull out of the float under pressure.
---