South Wales based commercial star Andy Neal has joined up and coming tackle innovators Frenzee.
Andy joins the team as a consultant with a view to being heavily involved with all new product design and future marketing of the company.
Brian Bancroft and John Pryce, co owners at Frenzee said: "We are extremely pleased to have Andy on board. He is a top class angler who has a long list of achievements in the sport as well as we think a massive future ahead of him.
"In the short time we have been associated he has already brought some great product ideas to fore and we are looking forward embracing these ideas and developing the products for market. It's an exciting time for us as we work hard at developing our product portfolio, I'm sure with Andy's help our company objectives will easily be met."
Andy, the Parkdean masters and Fish 'O' Mania qualifier and a regular user of the popular match fishing forum Total-Fishing.com added: "I am over the moon to be involved. The quality of the products already produced by Frenzee says it all to me. The current float range for example is one I have been using for some time and the build quality is some of the best I've ever seen.
"I am constantly altering my kit, adapting it to what works in given situations. The opportunity to develop products that really 'work' is one I relish. Watch this space!"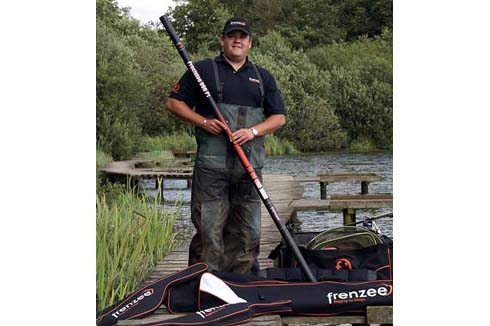 Andy Neal from South Wales has picked up a sponsorship deal from Frenzee.
---