Tunnel Barn Farm, Warwickshire Wednesday, 15th July, 70 pegs
Paul Newell walked off with the £500 top prize and a new Garbolino G60 pole after winning the Tunnel Barn Farm Masters in convincing style. The 54 year old from Redditch has devised his own unique way of fishing bread and used those tactics to bag over 100lb of fish on both the morning and afternoon matches – and each in less than four hours!
He got off to a cracking start on the morning session with a 142lb 6oz bag which was at least 50lb more than second place! Drawn on fancied Peg 12 on Canal he made no mistakes with exactly 100 carp and F1s. In the afternoon Paul bagged 75 fish, including a 10lb specimen, for a lake-winning 120lb 5oz catch from Peg 30 on House Pool.
Identical tactics were used in both matches: bread fished up in the water at eight metres. Four rigs were assembled to present his flake and paste hook baits at different depths, each with strong 0.22mm main line, 0.16mm Shakespeare ASL hooklengths and his old faithful size 10 Gamakatsu 'big bugger' hooks! The floats ranged from a polyball for fishing just eight inches deep to a Shakespeare ST2 dibber for deeper water.
Paul fed sloppy mashed bread by hand every cast and varied it from conker-sized offerings to entire fistfuls. Ringing the changes with depths and the amount of feed was essential to keep in touch with the fish as they moved up and down in the surface layers. In total, he got through three mashed loaves each session.
Second place went to in-form Paul Bick who also scored a maximum two points but lost out on overall weight. The Shakespeare Superteam rod used more conventional pellet-and-meat tactics close in to post a 200lb 2oz total weight, which included winning the afternoon outright with 135lb 3oz from Peg 9 on Extension Pool.
Morning Match
1st P Newell, King's Mill Redditch 142-6-0
2nd S Beswick, Tri-Cast Rochdale 85-13-0
3rd A Bennett, Tri-Cast Stalybridge AC 80-1-0
Afternoon Match
1st P Bick, Shakespeare Superteam 135-3-0
2nd R Swain, Birmingham Thursday Club 133-11-0
3rd C Hopps, Bilston Angling Centre 121-7-0
Overall Result
1st P Newell, King's Mill Redditch 262-11-0 (2 points)
2nd P Bick, Shakespeare Superteam 200-2-0 (2 points)
3rd S Beswick, Tri-Cast Rochdale 193-3-0 (2 points)
4th A Bennett, Tri-Cast Stalybridge AC 189-11-0 (2 points)
5th K Haynes, Mosella 161-9-0 (2 points)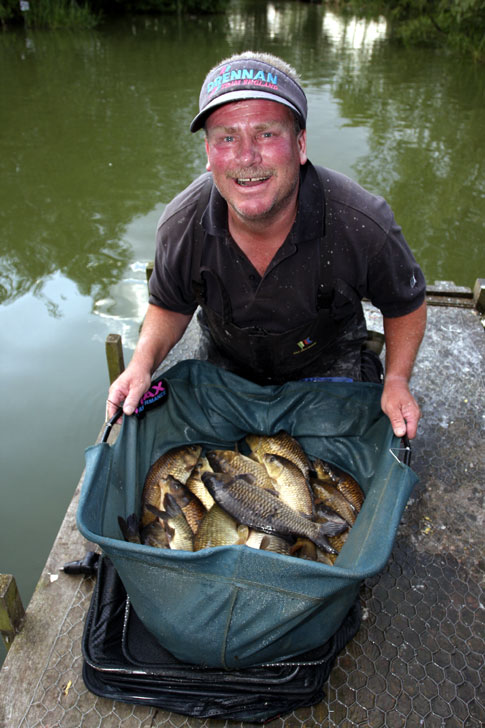 (pictured: Paul Newell with part of his 120lb 5oz afternoon catch.)
Click on www.total-fishingclub.com – the UK's No1 online match fishing club – to win a trip to the world match fishing championships, and save money off tackle