Organised by Pete Henwood of Specialist Tackle/Riverveiw Motel, the fourth St Lawrence Challenge attracted a good entry from the UK, America, Canada and even France, as several teams of two did battle over a non-stop 72 hour match.
The river didn't fish as expected as the carp were still in the shallower sections of the river for a late spawning, which made things hard for the competitiors as they battled it out for the $10,000 first prize.
In previous years this even has produced several 2000lb plus weights, but this year it was not to be and a tactical fishing approach was the order of the day.
The UK was represented by several English based carp anglers which included current England team members Billy Flowers and Jamie Londors, who were drawn on the Little Sucker brook section and have framed in all the previous events here. Drawn in the same section was Carpworld editor Martin Ford and British soap star actor Scott Maslen, who was fishing the river for the first time. The pairing of Maslen and Ford proved a strong combination and the section was dominated from the start by the two English teams who battled it out between them right to the very end.
During the 72 hour non-stop match both UK teams were in contention for a third placed finish and constantly swapped positions on the leader board, with Ford and Maslen climbing up from 7th to 4th on day two and at one point into 3rd!
However, the skill and determination of the English capped pairing of Londors and Flowers shone through in the final few hours, as once again they surged into the frame to take third place behind an American and Canadian team (both of whom were pegged in the other section at Coles Creek).
British TV soap star Scott Maslen had been fishing with Carpworld editor Martin Ford here in the UK for the past twelve months in a build up to this match and was extremely pleased to have achieved a fourth place finish first time out. The whole match was filmed by a BBC film crew that travelled with the pair to cover their progress in the event and construct a documentary about Scott's progression into carp fishing.
Double World Champion Tim Paisley who is a veteran of this event and was paired with American carp angler Jerry Laramay finished in 9th place and England team captain Mitch Smith and partner Peter Cradock finished 11th.
For further information about the event check out www.specialist-tackle.co.uk
RESULTS (Top 12)
1st Chris Jackson & Paul Jackson 996lb 2oz
2nd Randy Estarbrooks & Jason Best 961lb 11oz
3rd Jamie Londors & Billy Flowers 811lb 7oz
4th Martin Ford & Scott Maslen 592lb 13oz
5th Mike Larose & Radu Georgescu 584lb 7oz
6th Steve Ware & Eric Ames 502lb 8oz
7th Jean-Marc Le Breton & Yann Guilio 464lb 10oz
8th Josef Settele & Matt Latzo 403lb 6oz
9th Tim Paisley & Jerry Laramay 340lb 7oz
10th Bob Wheeler & Peter Starzela 209lb 7oz
11th Mitch Smith & Peter Cradock 178lb 5oz
12th Sean Rafter & Jen Terriah 150lb 1oz
Section 1 Coles Creek (section winners) Mike Larose & Radu Georgescu
Section 2 Little Sucker Brook (section winners) Martin Ford & Scott Maslen
Biggest Fish 28lb 15oz – Josef Settele & Matt Latzo
Team Winners – Chris Jackson- Paul Jackson – Billy Flowers – Jamie Londors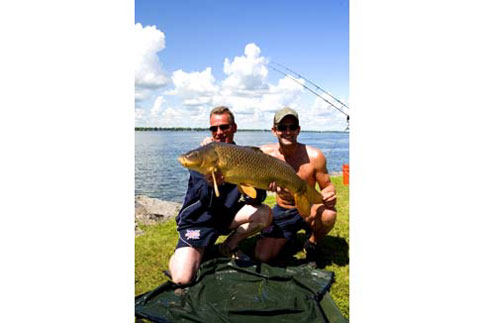 Martin Ford (left) and Scott Maslen (right) with one of many St Lawrence carp from the match.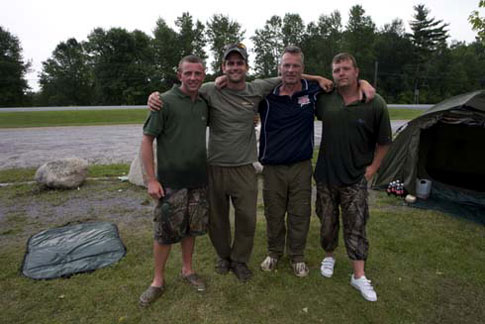 Londors and Flowers get third, Ford and Maslen take fourth and the section.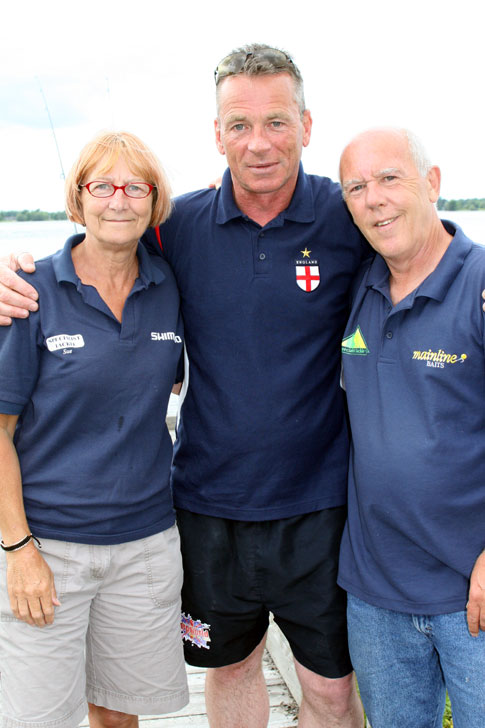 Pete and Sue Henwood, organisers of the event with Martin Ford.