GARY Smith is an experienced British angler who has discovered the fantastic shore and reservoir fishing in the Murcia – and now wants you to do the same.
Holidays with Gary and his team are relaxed affairs but everything is provided including a lift from the airport and to all the venues, and anglers have the rare chance to relax in the sunshine and discover the fishing opportunities on huge reservoirs that are almost unfished, and offer incredible, untapped potential. You fly into Murcia airport which you can get to inexpensively via several of the major airlines. From then on everything is laid on – you just have to relax, enjoy the climate, food and refreshments, and catch plenty of fish!
There is some great shore sport to enjoy along the Murcia coastline, which enjoys a fabulous climate.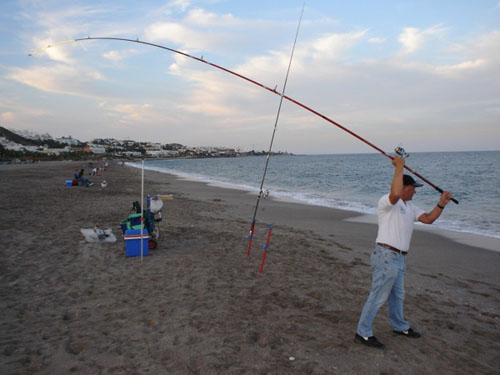 "Our aim is to make your angling holiday with us as relaxing or busy as you wish," says Gary. "Fishing sport here has a 'back to basics' feel about it. There are no lakes stocked to the hilt with massive carp that are fed daily with groundbait. The area lends itself to a more relaxed way of fishing.
"If you are a beginner then you need not be nervous about having to catch vast amounts of fish, I will make sure that you learn some new skills while you are here and benefit from your visit. Experts I am sure will enjoy the experience of fishing the very nearly virgin waters of the vast reservoirs and trying maybe for the first time Mediterranean shore fishing, which is an art in itself, and I will be with you at all times.
"Above all we want you to enjoy your time here and go fishing for pleasure not pressure. Licences will be acquired by us on your behalf before you arrive. Equipment provided will be of the highest quality and baits will be fresh. Rods, reels, rod pods, alarms, bank sticks, bags, tables, feeders, rigs, floats, everything is provided for you."

The massive dams are almost unfished and have incredible potential for carp and zander.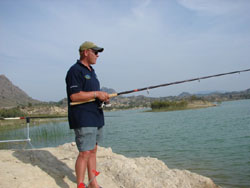 Transport is in a new Nissan Navara Double Cab and a Renault Kangoo 4×4. Upon your arrival at Murcia Airport (MJV) Gary's team will be waiting to collect you. A 30-minute drive back to the gorgeous villa follows, then, depending on the time of day a welcoming meal or barbeque.
"We will then discuss the timetable for your stay over a drink and get to know each other," adds Gary. "We'll get to know your angling experience, your favourite areas of the sport etc. After all, it is your holiday and we want you to enjoy it."
The Holiday
The angling holidays are all inclusive. You will be collected from Murcia Airport and stay in the spacious, private five-bedroom Villa. Food, tackle, bait and transport are all included. All you have to do is get there! Find a cheap flight on one of the airlines flying into Murcia and you can be cheaply and quickly be in these fantastic surroundings enjoying your favourite sport.
The Fishing
A typical seven night stay would include three shore fishing trips and three freshwater fishing trips. Alternatively you can have a week shore fishing incorporating rock fishing, spinning and surfcasting or a week freshwater fishing visiting several lakes for different species. Fly fishermen and women are also welcome, and species like bass can be caught on the fly which makes for very exciting sport. The beaches are only down the road from the accommodation, and the first of the stunning lakes are just 45 minutes north. Anglers travel in a new and large four wheel drive vehicle stocked up with all the tackle, bait and equipment you could wish for. Gary Smith will accompany you and be your guide and on all fishing trips.
Locals fish quite crudely compared to UK techniques, which can be devastating.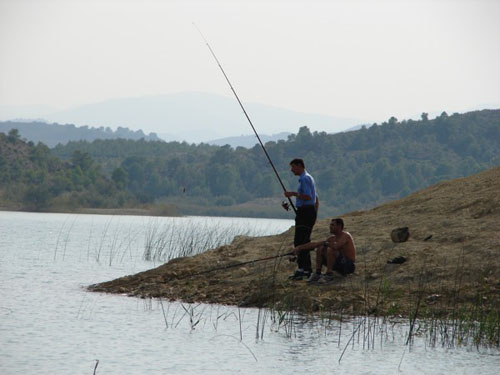 The Accomodation
The villa comprises four bedrooms varying in size, all en suite with tea/coffee making facilities. There are two large sitting rooms, and the main one enjoys the benefits of DVD, video and satellite television. The tranquil second sitting room with a view out to the pool is the perfect place to relax with a good fishing book from Gary's library. The large dining room/kitchen is where you will enjoy breakfast and dinner. The office has e-mail facility.
The villa's pool, the perfect place to relax with a beer between fishing
trips.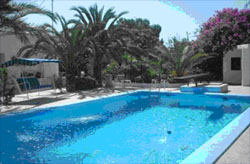 What's Included
Transfer to and from Murcia (MJV) Airport; accommodation at Casa Del Pequeño; breakfast; packed lunch, dinner; fishing tackle; baits; licence; 4X4 location transportation.
What's Not Included
Air or ferry fares; holiday Insurance; personal clothing (jackets, waders, boots etc; hire car if required for partner; pocket money!
Feel free to bring your own rods, reels and rigs if you wish.
What It Costs: www.garysmithfishing.com/holidayprices.htm
Call 0034 680687383 for latest prices or email gary@garysmithfishing.com .
Special Offer
Special Opening Offer: Seven days all inclusive fishing holiday: £500 (non fishing partner £238 Euros)
Call 0034 680687383 to book up.
Gary with a nice bass from Isla Plana.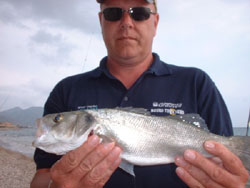 Enjoy a floatfish while you wait for the alarm to scream!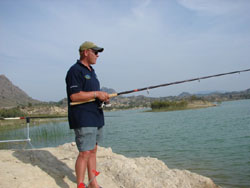 Fact File
Address: Gary Smith Fishing, Best Wishes Box No. 105, Edifico Discovery, Adva Dr Meca Bajo 34, Pto De Mazarron, Murcia 30860, España
Website: www.garysmithfishing.com
E-Mail: gary@garysmithfishing.com
Tel: 0034 968163529
The stunning El Portus, one of Gary's hotspots for bass.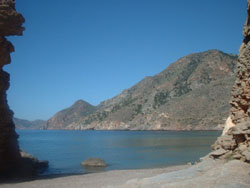 The massive reservoirs are full of carp, zander and bass.