Bristol Angling Centre is getting into the festive spirit early with a string of great Christmas tackle offers for match and coarse anglers.
Last available posting date for Christmas is Wednesday 22nd December….
For a video about what Bristol Angling Centre has to offer, CLICK HERE (http://www.bristolangling.com/)
…………………………………………
Preston On Box X6s Seat Box
Was £399.99 – Now £335.99
SAVE 16%
The stability of the X6S seatbox has been developed with larger profile legs. These feature non-marking Knuckles and increased sized swivel mud-feet. Sliding neatly underneath the box, the new cassette style footplate makes for easy carriage and has a full non slip cover.
The X6S comes with 2 shallow 20mm front drawers, 2 deep front drawers 40mm and 1 full width drawer which is divided to take Inbox winder trays and 1 deep through divided drawer to accommodate the most popular terminal tackle items.
The units now have new positive plastic clips and hinges which adds to easy addition and removal and units.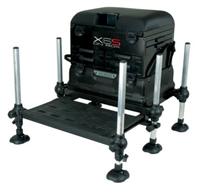 …………………………………………
Preston Inception 4000 Reel
Was £169.99
Now £143.99
SAVE 15%
A smart-looking understated black finish gives the Inception 4000 a very modern and minimalist look, but the reel has much more going for it than just its looks.
One of the main features on this superb product is the clever use of a unique oversized front dragged spool that has been specially developed
to help achieve longer casts with less effort, even when using thick diameter reel lines that are needed when tackling commercial fisheries.
Preston Innovations director Ricky Teale revealed "The Inception reels, like all Preston Innovation products, have been designed around the needs of modern match anglers. We basically looked at the growing popularity of commercial carp fishing and the increasing size of these fish.
"We wanted to create a reel that would cope with heavy lines for both feeder and pellet waggler work. To do this with a standard conical-shaped is very difficult, so we had to consider a new approach – thus the new size and shape spool.
The reel is constructed using lightweight magnesium to form the sealed body and the balanced rotor, which makes it very light in weight. And the exceptional oscillation system produces a parallel line lay across the oversized spool, preventing line from bedding-in – even when under immense pressure.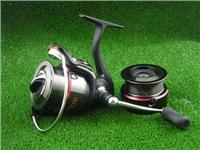 …………………………………………
Maver Match This Series 1 Match Pole 13m
Now only £449.99
Free Postage and Packing on this Pole
The Match This Series 1, is Maver's entry level Nanolith pole, boasting all of the technology and innovation found in our more expensive models.
Boasting all new attractive Maver graphics, the Series one comes supplied as a 13m pole as standard complete with 2 power kits, mini extension and cupping kit, in addition to the match kit inside the pole.
Light weight and offering excellent strength and rigidity this pole is more than at home taming 200lb + of carp and F1s on commercials, but equally at home on rivers and canals.

…………………………………………
Maver Deluxe Matchmans Trolley
Was £49.99
Now £44.99
Save 10%
Very robust matchmans trolley with detachable pneumatic wheels. Lightweight and well balanced. The extendable arms on the base of the trolley enables the angler to accommodate most if not all seatboxes. Extendable handle with rubber hand grips. Featuring height adjustable and extendable horizontal padded 'L' bars to lock a seatbox or carryall securely in place. The welded 'O' rings, for fixing elasticated bungee straps are easily accessible, even when the trolley is fully loaded. Comes supplied with 2 high quality bungee straps as standard.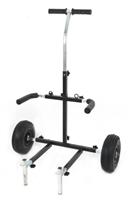 …………………………………………
Maver Powerlite Feeder System
Was £199.99
Now £161.99
Save 19%
More and more anglers want a feeder rod that will cover lots of different situations, well here it is. The Powerlite Feeder System has been manufactured utilising the 'radial carbon' process, which refuses to lock up under the most extreme pressure. This new version for 2010 features improved performance and stunning new graphics.
This awesome system offers a combination of 11', 12' and 13' rods. With 3 butt sections, 2 middles, 2 carrier sections and 6 carbon tips, you can now set up two rods, at two different lengths.
The 11ft version is the perfect bream and skimmer rod, while the 12ft and 13ft versions are perfect for casting medium method feeders on commercials, or maggot feeders to the far bank on rivers.
Each carbon tip has been carefully graded to marry the action perfectly. Finished in a deep black finish, with black whippings and silver/grey tippets. Single leg SIC lined guides throughout, a folding hook keeper ring and an EVA top twist grip is fitted to the full cork handle.
Each length is also available separately, all of which are supplied with six carbon tips.
This system of rods has a through action perfect for all sizes of fish big or small.
This system has a large casting weight range across the different lengths 70g – 140g
Recommended line sizes across the different lengths 3lbs – 8lbs

Click here for more details

…………………………………………
Preston Dri Fish DF10 Suit
Was £179.99
Now £159.99
Save 11%
The DF10 suit has been specifically designed to meet the needs of anglers, with high waterproof and breathable ratings and generously cut around the arms and shoulders to give ease of movement.
Once you have worn one it becomes obvious that it's been designed to allow unrestricted movement in fishing situations.
Storm flaps cover all the zips and pockets for extreme protection and re-enforcement has been added to key areas such as shoulders and knees.
Adjustable neoprene cuffs help to keep out the elements, and a concealable hood which features draw cords and a stiffened peak make the DF10 suit an ideal choice for all-round performance in adverse weather.