Guru has two new barbless eyed hook patterns out aimed squarely at the commercial fishery match carp angler – one with an offset point (the QM1) and this one, the MWG, with a straight point. The MWG stands for Match Wide Gap.
It's an extremely strong hook even in the smaller sizes and as you would expect from a commercial fishery pattern, has a wide gape to make it well suited to baits like pellets, corn and in the larger sizes boilies.
It's one of the few hook patterns out there that I would happily used for the bagging waggler at Drayton Reservoir where the fish average nearly 10lb and you have to stop them getting past the buoy ropes. The pattern boasts a slightly in-turned point, also called a 'beaked' point', which I prefer and has a large eye so it's easy to tie up using a knotless knot should you with to hair rig.
Expect to pay around £1.20 for a pack of 10.
Available in sizes 10, 12, 14, 16, 18 and 20.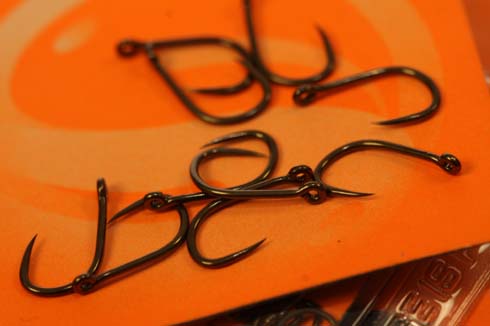 The MWG is a super strong eyed barbless hook pattern with a slightly in-turned (beaked) point..
---
">