"I do an awful lot of shallow fishing
using dibbers in the summer,
and I reckon I have produced
the perfect float…"
Nick Glibert
Nick Gilbert is 46. He has been fishing since he was about five years old. And he has been making floats since he was 12! 
Nick moved into match fishing seriously in 2003, and soon made a name for himself on commercials like Monks Lake and Hartleylands Farm, winning six in a row during one purple patch.
"I quickly discovered that shop-brought floats were not up to the job," recalls Nick. "So initially made a few balsa pellet wagglers, then changing materials to Styrofoam. I started to sell a few to pay for my match entries.
"The pole floats I was using were also falling apart after a few hours carping fishing, so I started to make my own, similar to the Decker float I make now. I also made a few margin floats and dibbers."
You know what match anglers are like! As soon as they saw Nick's floats they loved them, and had him working late into the night to supply them. And so The Float Store was born.
So what are some of the features that make Nick Gilbert's commercial fishery pole floats so good?
1) Strong Eyes
All Nick's pole floats for commercial venues have traditional side-eyes, fixed in place with the best quality glue at least 10mm into the balsa.
"I don't like the wire wrap-around eyes that are popular on a lot of handmade floats for two reasons," says Nick. "The first being is that they can unbalance the float due to the weight of them. In my opinion they are only any use on floats with the thickest of tips. The second reason is that the eyes can damage line easily, especially line under 0.16mm diameter."
2) Paint Finish
Each float is given five coats of various 'secret' paints to seal them. The side eye is glued on place before the final coat is applied to make sure there is no way the float can take on water.
"The final two coats are a special hard coating that I believe no other float makers use. I also make sure the paint goes at least 5mm up the tip where it meets the body, as this is another place on pole floats where water can creep in. Every float is put together by hand with the best quality glue, and brush painted."
3) Stem Stability
Nick's theory for pole floats for commercial fisheries is you only need  a few  float patterns to cover all situations, and all his are made with glass fibre stems, which is the best material for strength and stability.
The Float Store Range
| | |
| --- | --- |
| The Decker. | The XTM Margin. |
Decker Pole Float
The Decker was Nick's first pole float. It's a unique merging of the rugby ball and diamond shape and Nick describes it as his 'do almost everything' float.
As it's available in a variety of tip diameters and stem lengths, the Decker can cover virtually all open-water carp fishing in depths from 2-10ft, and smaller sizes can be used down the margins too. This pattern is so stable you can get away with a much lighter float than normal. Available from 0.4gr to 1gr.
Xtra Tough Margin (XTM) Pole Float
The Xtra Tough Margin (XTM) float takes over when you need an unbreakable float for the margins. It's based on a 'lengthened-out' Decker body shape but the curve on the body is not as sharp, meaning it can withstand greater pressure.
| | |
| --- | --- |
| The Edger Margin Float. | The Finesse. |
The Edger Margin Pole Float
The Edger margin float is made with a slim body so you can get in close to the margin and is less likely to get caught up when a fish drags it through the reeds than a 'fatter' float!
The Finesse Pole Float
The Finesse float is made for open water from 2-7ft depth where sensitivity is important. It's perfect for shy-biting F1s, skimmers and roach. The slim body and fine 1.2mm tip can be dotted right down and even if a fish lifts the bait it will show on the float.  These have become popular at places like Tunnel Barn Farm, Monks Lake and many other venues that hold F1 carp around the country. These float look delicate, but are still super tough and are difficult to break under normal use.
| | |
| --- | --- |
| The NG Dibber. | The Ghandi pole float. |
NG Dibber Pole Float
The NG Dibber is designed with strength in mind and Nick has not followed the trend of trying to make them self-cocking. "A short float with a heavy stem will not sit straight in the water and cock quickly enough when fishing shallow," explains Nick. "So mine have a fine 0.8mm glass stem, which is best fished with one No8 shot directly at the base of the stem so the float sits straight in the water and is fishing immediately. I do an awful lot of shallow fishing using dibbers in the summer, and I reckon I have produced the perfect float."
The Ghandi Pole Float
The Ghandi is named after Keith Ashby, who fishes for GOT Baits. He wanted a small, short pole float for commercial fisheries that he could dot right down for shallow water close in and on the far side of narrow venues, or against islands. Not surprisingly, it has turned into one of Nick's best sellers!
Paste Floats
Nick produces two long-tipped paste floats. One is based around the Decker body shape making it stable for deeper water, the other has a long, slim tip and body for water up to around 6ft deep.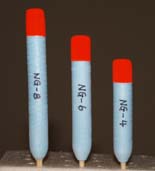 Nick's super strong, shallow diving pellet waggler floats.
Pellet Wagglers
Nick still produces his super-popular Styrofoam Pellet Wagglers. These are made with flat tops to minimise diving so you are 'fishing' straight away, and a cane stem running all the way through the body to make them strong. Available from 3AAA to 8AAA.
Contact Info
Website: http://www.float-store.co.uk/
Email: mail@nick-gilbert.com
Phone: 07743 416559
Offers: Free postage on all orders over £40
---