Walsall Canal, 72 anglers
The Walsall Canal fished exceptionally well throughout.
The match was won by Jason Jeenes (Browning Central) off Peg 41 in the bay with 20-15-4 of bream plus a bonus 3lb tench. All on bloodworm and caster. Second place off Peg 40 was Mark Taylor
(Shakespeare) with skimmers and bream to 2lb for 11-14-5. Jon Arthur
(Shakespeare) had a 1lb-plus tench, six hand-sized skimmers and 4lb of perch for 9-9-0.
Daiwa Trentmen leapfrogged Shakespeare Mach 3 in the overall league with a superb 9 point final round score from a possible 72.
Trentmen's captain, Darran Bickerton, was also the top individual over the six rounds with just 28 penalty points.
Individual
1st Jason Jeenes (Browning Central) 20-15-4 2nd Mark Taylor (Shakespeare) 11-14-5 3rd Jon Arthur (Shakespeare Mach 3) 9-9-0 4th Andy Billington (Drennan NW) 9-6-4 5th Darran Bickerton (Daiwa Trentmen) 9-6-0 6th Phil Cox (Team Derry) 8-13-0
Teams
1st Daiwa Trentmen, 9 points
=2nd Shakepeare Mach 3, 18
=2nd Team Derry, 18
4th Drennan NW Gold, 20
5th Dams & Lock Adderley, 21
League Overall
1st Daiwa Trentmen, 136 points
2nd Shakespeare Mach 3, 142
3rd Drennan NW Gold, 147
4th Shakespeare Superteam, 164
5th Team Derry, 173
Individual Aggregate
1st Darran Bickerton (Daiwa Trentmen) 28 points 2nd Lewis Breeze (Drennan NW) 31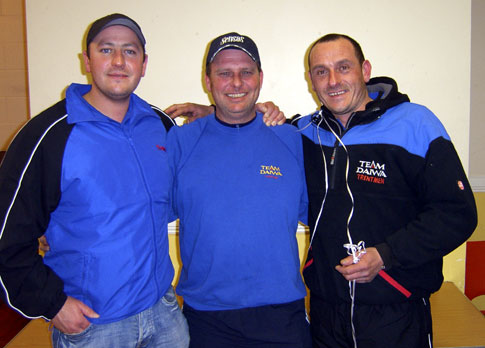 Daiwa Trentmen (from left: Jason Scrivener, Darran Bickerton, Pete Scott)